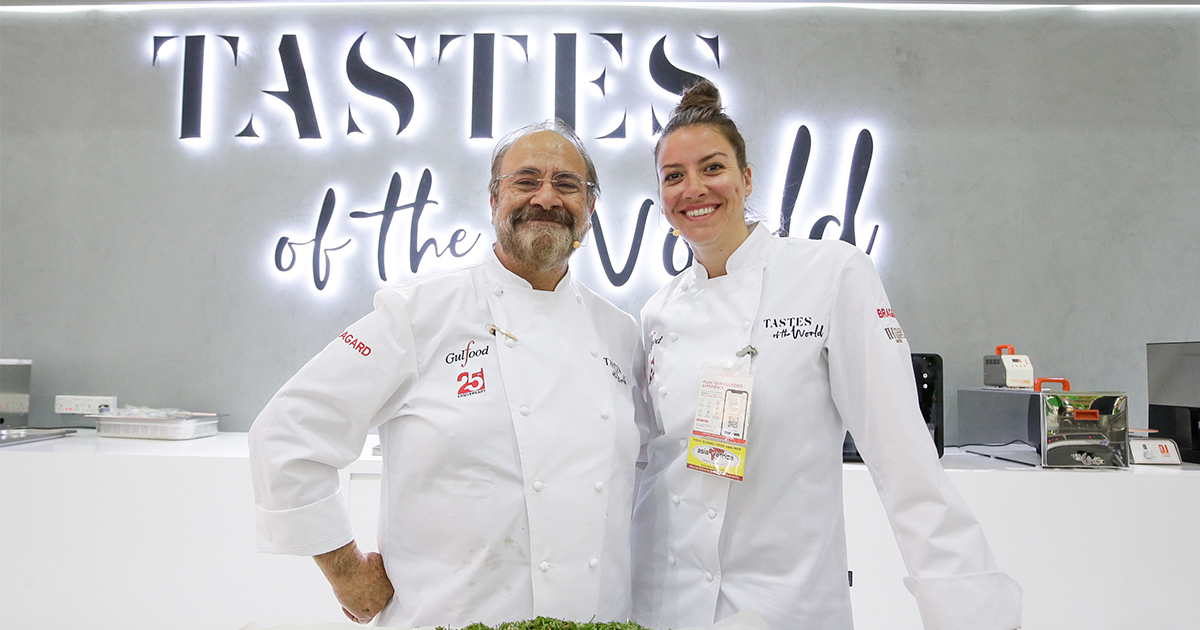 Gulfood 2020, the landmark 25th edition of the region's longest-running annual F&B trade show at Dubai World Trade Centre, opened on Sunday 16 February, with renowned chefs displaying their tremendous talents, awarding-winning dishes and different approaches to food.
Tastes of the World, Gulfood's popular interactive feature, is collecting an exciting line-up of the biggest food change-makers and Michelin-starred chefs for five days of cuisine innovation, in line with the 2020 event's 'Rethinking Food' theme.
Taking centre stage on the opening day, acclaimed UAE chefs Nick Alvis and Scott Price of Dubai dining hotspot Folly, invited guests into the future with their pop-up Twenty-Five restaurant, conceived for the show's silver jubilee. Lucky guests enjoyed a three-course lunch and culinary experience of "sophistication and innovation". The menu featured Devon crab followed by the duo's famed roasted saddle of lamb and rounded off with blood orange cheesecake.
"The theme for Twenty-Five is 25 years into the future. We think fine dining is going to make a comeback, so we incorporated classic elements of the concept alongside our signature dishes," said Price, with Alvis adding: "We are honoured to be a part of the show, especially kicking off the restaurant at lunch time. Every year we see something different at Gulfood, it is continuously moving forward with more and more big names participating."
On the Tastes of the World stage, Australian chef Greg Malouf, (pictured above) treated visitors to a unique spin on a family recipe of salmon tarator, a Tahini-based sauce. "It's exciting to be a part of the live demonstrations and meet and interact with the audience," said Malouf. "The arena is full of knowledge and the sessions are informative; it's great to see chefs innovating with different cuisines from around the world."
Tastes of the World continues today with appearances by celebrity chef and Top Chef Arabia judge Maroun Chedid, Heinz Beck, holder of three Michelin stars, Chef Tsuyoshi Ueda, from the world's first Michelin-starred ramen restaurant, Tsuta, and more.
 Gulfood 2020 is a trade event open strictly to business and trade visitors. The show is open 11am-7pm from February 16–19 and 11am-5pm on February 20. For more information, visit www.gulfood.com