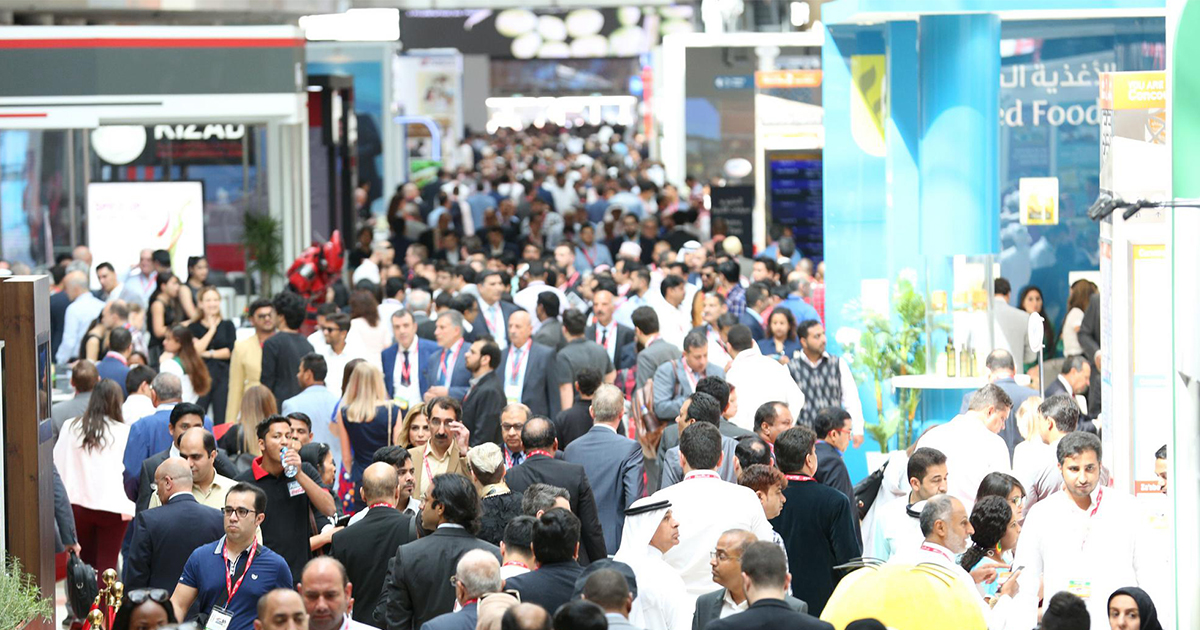 Welcoming more than 100,000 visitors from 200 countries every year, Gulfood is the quintessential food event in the Middle East. For the 2020 event, the show promises to be bigger and better than ever showcasing thousands of suppliers across eight sectors with 10 unique show features planned throughout the event.  What is perhaps surprising, is how popular Gulfood remains, particularly in the age of digital commerce. According to KPMG, the majority of smartphone users in the UAE have at least one digital food app on their phone. At the same time, businesses rely on digital platforms to conduct everything from transactions to team meetings.
However, as Priyanka Mittal, the director of India Gate KRBL one of the exhibitors at this year's exhibition, "events such as the Gulfood will always hold its importance." She continues: "the event provides one platform where you get to meet a number of people from a similar industry,  in person. While the digital age has surely made the world smaller, what it lacks is personalisation. These events allow brands to offer an experience to their customers which is digitally not possible. E-meeting a person is a lot different from meeting in person. A lot of important decisions can be made when you physically meet a person. Moreover, Gulfood has over 5000 companies from over 185 different countries exhibiting their products under one roof, no other online platform provides such an opportunity. With the number of visitors increasing each year we also get to physically interact with our customers explaining to them about our brand and what we have to offer."
Indeed, the figures from previous Gulfood events seem to support Mittal's claims too. At last year's event the USA reported onsite sales of US$ 106.7 million, while Ethiopia scored over US$3 million in sales and the Philippines recorded sales of more than US$ 53.4 million. Meanwhile, 71% of exhibitors are estimated to make up to US$ 500K worth of orders in the 12 months following the exhibition. As Claudia Saumell the manager for the Middle East arm of Bord Bia, the Irish Food Board which is also exhibiting at this year's event explains "Gulfood presents one of the most important events on the calendar for the food industry. Even now in 2020 and in this digital age, the value of meeting face-to-face is unparalleled. It allows you the opportunity to be authentic and spontaneous and enrich the conversation."
Indeed, even Vincent Vandenabeele the founder of fermented tea company Saba Kombucha who is not exhibiting at the event this year, but taking part through the UAE Pavilion recognises the events benefits. "It represents a key opportunity from SMEs such as Saba Kombucha. It's so important to have an in-person element to your business, for potential customers to be able to taste the food and drinks, to see the products. It creates a completely different experience, which I feel no form of digital platforms can compete with."
Mittal points out, however,  that F&B events such as Gulfood could do well to integrate and mobilise technology to allow greater synergy for exhibitor and guest experience. "Geo-mapping at Gulfood could really help build on the exhibition's success," she explains. "Due to increasing popularity the size of the exhibition has increased each year. Our visitors have sometimes issue finding the stand.  If Gulfood integrates geo-mapping technology into the event, it would make walking to each store very convenient.  With geo-mapping, the visitors can put the stand name and number and the app can guide in real-time the direction to the stand, similar to apps like Google maps," Mittal  continues. Meanwhile, Robert Jones, the managing director of Coffee Planet , who is also exhibiting at this year's event points out the immense work that goes into exhibiting at the event. "Gulfood always represents the biggest exhibition in our event calendar for the year and is a prime place to showcase our latest products and innovations in our native Dubai. As a global and large-scale show, companies can be quite competitive with their product offering in order to stand out amongst the crowd."
To celebrate the 25th year of the event, Gulfood is looking for innovative and interesting solutions under the show's "Rethinking Food" theme for 2020, challenging exhibitors to offer viable solutions to environmental concerns in the food industry. "Today, the global food and drink industry faces enormous challenges, including changing climate, risks to our natural capital and a demand for raw materials that puts a huge strain on our world's natural resources. With the global population expected to rise by 2.4 billion before the year 2050, the world will need to produce up to twice as much food from increasingly limited resources," explains Saumell.
"Eight years ago, at Bord Bia, we recognised these concerns and in 2012 began addressing this issue when we launched the sustainability programme Origin Green, which is a national programme that brings together farmers, food manufacturers and food exporters to become more sustainable in food production. Now in 2020, over 95% of Irish food and drink exports come from Origin Green members, which we are very proud to bring to Gulfood 2020," she continues.  Meanwhile Mittal at India Gate is also looking forward to presenting the company's green ideas at Gulfood 2020. "KRBL, the makers of India Gate, has been at the forefront of practicing sustainable leadership for many years.  We cultivate our own grains using sustainable farming practices to provide high-quality seeds and to ensure less resource consumption and maximum production. We have also successfully established a model for effective contract farming practices and the farmers who work with KRBL have become the most important and fundamental members of the extended KRBL family." At Coffee Planet the focus for the Rethinking Food theme will be on the company's sustainable packaging: "Gulfood 2020 will preview our new range of Nespresso-compatible compostable capsules – currently in development, this new line of capsules will form a central part of our commitment towards sustainability throughout all aspects of our business," explains Jones.
For more Gulfood news, click here.