From February 18 – 22, 2018 at Dubai World Trade Centre, Gulfood 2018 returns with an extensive series of activities, exhibitors and insights for F&B professionals. The trade show presents the opportunity to discover new products and suppliers, find solutions to new and evolving global challenges, stay up-to-date with the latest trends in consumer behaviour, plus much more.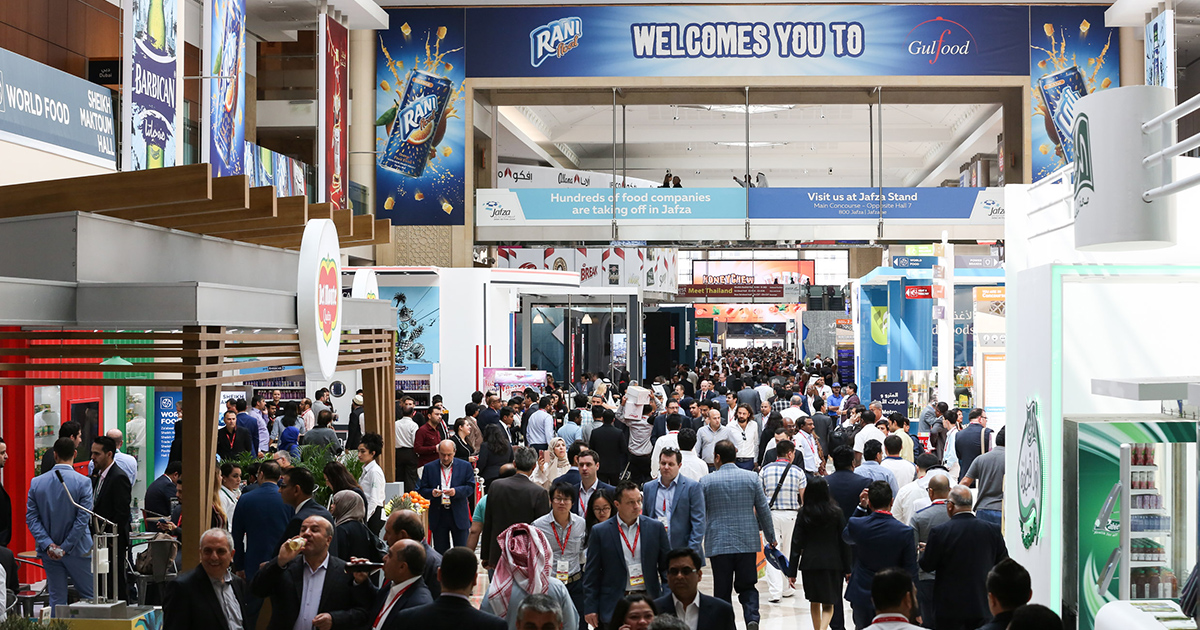 Following a record 2017 edition that welcomed in excess of 97,000 visitors across one million square feet of exhibition space, Gulfood – one of the world's largest annual food events is placing innovation at the heart of its 23rd edition.
As the global F&B community gears up for this principal opportunity to source the latest and best products at the best price, Gulfood is promising a wave of new services and innovations to reflect changes in consumer demand. The fully booked-out event will once again welcome more than 5,000 exhibitors showcasing products across eight primary market sectors.
In total, buyers can look forward to meeting more than 1,000 new-to-show food and beverage producers that have been hand-selected to deliver greater volumes of consumer-oriented products. These include health and wellness categories such as organic and sugar-free plus third-wave coffee varieties and new taste and texture innovations across the board.
Gulfood Innovation Awards finalists will also form an integral part of the Innovation Zone showcase, with 2018 Award winners being announced during the prestigious annual Awards ceremony. Additional networking features include a series of government accredited fringe seminars running throughout the exhibition plus live pitch demonstrations from some the most exciting global startups on the scene.
Don't miss
Gulfood Innovation Awards – these awards celebrate and reward excellence across brands and products, with an industry-wide campaign encouraging over 300 entries, a judging panel of prestigious industry leaders, and culminating at the glamorous awards gala dinner, held during the show. With intense interest from the media and visitors alike, the event offers unprecedented opportunities for industry networking and brand profile-raising through PR and sponsorship.
Salon Culinaire – the Emirates Culinary Guild International Salon Culinaire is the largest single-entry chefs' competition in the world. Structured as a series of practical and display-based culinary challenges or 'classes', this globally renowned annual contest gauges the diversity of entrants cooking skills and pushes the boundaries of modern day food preparation and presentation. Evaluated by a panel of 30 international experts and mandated by the World Association of Chefs Societies (WACS), the Salon Culinaire provides credible industry recognition to more than a thousand master chefs, pastry chefs, cooks and bakers.
Halal World Food – is a show-within-a-show concept returning for its fifth edition at Gulfood 2018. This major global trading platform generates lucrative investment opportunities for international F&B businesses looking to capitalize on the burgeoning halal sector that is witnessing significant growth in both Muslim and non-Muslim countries across the world.
How to buy tickets
Gulfood visitor tickets are available on www.gulfood.com . Visitors who book before February 1, 2018 will save AED 150 against the standard onsite price, paying AED 250 until the deadline expires.
Details: For information about participation at the show, visit Gulfood 2018 please e-mail: gulfoodmarketing@dwtc.com. If you enjoyed this article, you may like this story on the Global Restaurant Investment Forum.