Gates Hospitality unveiled its collaboration with frntlne, an innovative company armed with an avant-garde, science-backed proprietary online platform.
This partnership marks a pivotal juncture poised to revolutionize the hospitality and customer service domains within the UAE. At the heart of frntlne's pioneering platform lies its exclusive methodology, The 'frntlne Interactive Knowledge Methodology'. This framework is meticulously crafted to empower frontline staff with content delivery.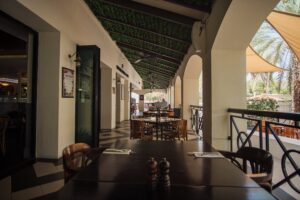 "We are excited to be the first client in the Middle East for frntlne," said Naim Maadad, Chief Executive and Founder of Gates Hospitality. "At Gates, we are always on the lookout for initiatives to empower, train, and educate our employees, and frntlne's innovative platform aligns perfectly with our vision of advancing the skills and expertise of our workforce through various training programs."
Founded by serial entrepreneur Mark John in 2021, frntlne's approach features succinct, TikTok-style videos and interactive materials that amplify information retention and infuse the learning process with enjoyment. The company's triumphs are attested by collaborations with global retail and consumer giants such as L'Oreal, P&G, Swisse, and Bondi Sands.