Tanmiah Food Company has been executing strategic growth plans, expanding operations and embracing advanced technologies from distinguished Dutch firms like Marel BV, Mavitec BV, Ottevanger Milling Engineers, and more, amounting to SAR 200 million investments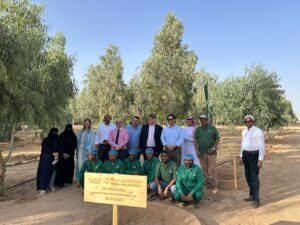 Recently, the company partnered with several Dutch entities in agreements valued at nearly EUR 48 million, backed by Sharia-compliant financing from Rabobank. This collaboration aligns with Saudi Vision 2030's goal of achieving food security and self-sufficiency. A delegation from the Dutch Embassy, headed by Agricultural Counsellor Erik Smidt and other officials, visited Tanmiah's Riyadh headquarters.
The discussions centred on enhancing collaboration, sharing local expertise such as Saudi Good Agricultural Practices (GAP) and halal certification, and Tanmiah's 2030 plan to enter the global halal food market with innovative, quality products meeting international standards. The delegation also participated in Tanmiah's One Million Tree initiative in Shaqra, planting local trees using treated wastewater from poultry waste and bio-organic manure. This circular approach recycles waste, curbing carbon emissions and aligning with the Saudi Green Initiative.