With an illustrious career spanning more than 27 years, Chef Hamzeh brings a wealth of international culinary expertise and an impressive portfolio of luxury hospitality brands to his role.
Chef Hamzeh embarked on his culinary journey in 1996 in his hometown of Amman, Jordan, where he began at Sheraton & Hyatt Amman. He then traversed esteemed locations including the UAE, Oman, Egypt, Saudi Arabia, Seychelles, and beyond, affiliating himself with renowned establishments such as Sheraton, Le Meridien, Hayat, Crown Plaza, Hilton, Conrad, Kempinski, Raffles, and Fairmont.
Khaled Al Jamal, General Manager of JW Marriott Hotel Riyadh, commented on Chef Hamzeh's appointment, stating, "In Chef Hamzeh, we have found a culinary professional whose global expertise is matched only by his unwavering passion for exquisite dining. His journey, spanning the finest establishments around the world, is a testament to his dedication to the art of cuisine. With Chef Hamzeh at the helm of our culinary team, we eagerly anticipate an era of unparalleled dining experiences, where innovation knows no bounds and every dish tells a story of perfection."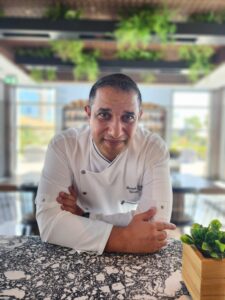 In 2004, he ventured internationally as Sous Chef at Muscat Crown Plaza, followed by a similar role at Le Meridien Mina Seyahi in Dubai. By 2007, he had risen to the prestigious position of Chef De Cuisine at Raffles Dubai, further enhancing his reputation as Executive Chef at Six Senses Hotel in Ma'in, Jordan.
In 2010, Chef Hamzeh returned to his origins at Sheraton Amman as Executive Chef. His journey continued with positions at Hyatt Hotel in Taba, Egypt, Kempinski Aqaba Hotel in Jordan, and Hilton Mecca in 2015. His role at Hilton Mecca paved the way for another remarkable endeavour, the establishment of Conrad Mecca, cementing his status as a culinary innovator. His extensive experience in Saudi Arabia further fortifies his profound grasp of the region's culinary landscape.
Chef Hamzeh Abu Elfoul will unveil all-new menus for JW Glass Garden, JW Steakhouse, and Kitchen on 3. Leveraging his perceptive comprehension of local preferences and global flavours, each dish will cater to the discerning palates of both local patrons and esteemed visitors.