Enrico Bartolini is recognised globally not only for his culinary creativity and technique that marries Italian tradition with modern influence, but also as Italy's youngest chef to earn two Michelin stars. In conversation with us, he explains why he believes today's consumer prefers degustation over à la carte.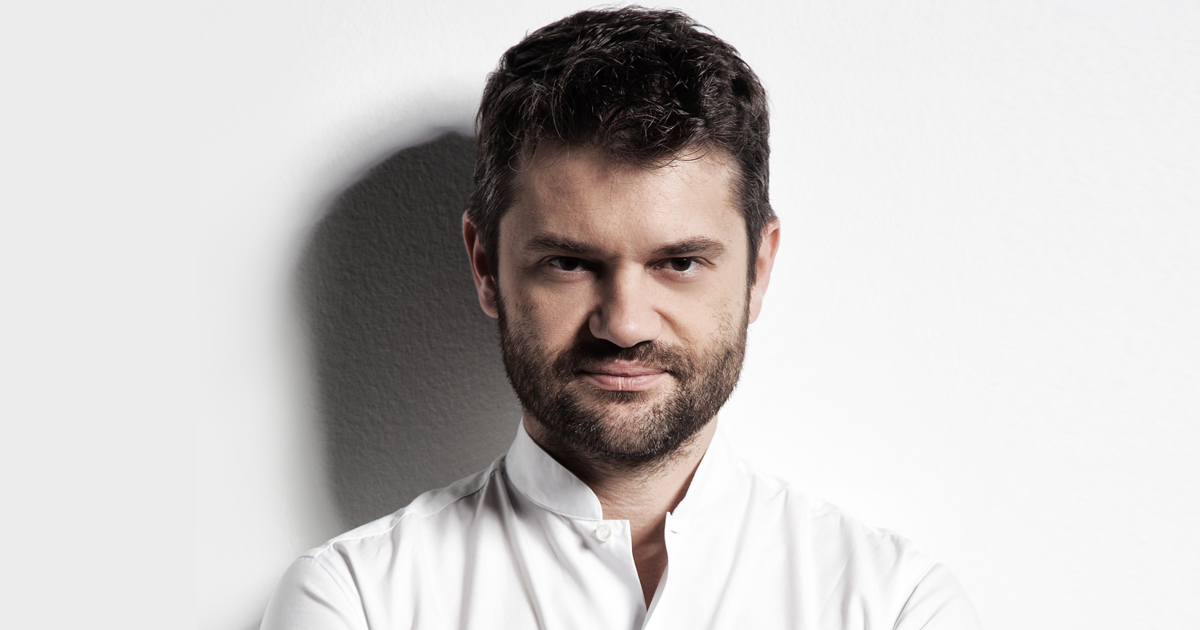 Tell us about your partnership with Roberto's Group here in the Middle East….
I met the Roberto's chairman in New York four years ago when I was speaking at an Italian school. I was asked to come to Roberto's for a week and to curate a special menu. As a result of that week, I continued to work with them and I love that I get to work with such talented chefs like Francesco and Andrea. The continued collaboration has taught me so much about the Middle Eastern market which is so different to Italian market.
What are your thoughts on Dubai's culinary industry? Do you have any favourite spots to dine at when you're in town?
I love that there are more home-grown brands popping up, particularly as there are many overseas imports in Dubai. The culinary industry here is full of opportunities and it's wonderful to see different cuisines putting a Middle Eastern spin on some of their dishes to celebrate the city of Dubai. In terms of favourites, it goes without saying that of course Roberto's is one of my favourite spots.
Going back to the beginning, what got you started in the kitchen?
Funnily enough, as a child I wanted to be a shoemaker as it was something that fascinated me. My father tried to steer me away from this, suggesting that I become a chef. At 13 years old I remember visiting my uncle, who owned a beautiful traditional Italian restaurant in Tuscany. Being there and helping him in the kitchen made me realise that I wanted to be a chef.
How would you describe your cooking style?
My style of cooking could be described as blending both modern and traditional flavours. My philosophy has three key pillars to it: taking a modern approach to traditional favourites, making sure nutrition is paramount, and of course it has to be visually stunning- after all you eat with your eyes too!
How did it feel to become Italy's youngest chef to earn two Michelin stars?
It was a great honour to earn two Michelin stars, especially to be the youngest chef to do this. I never set out to own and operate Michelin star restaurants, all I wanted to do was cook beautiful and tasty food for the people in Italy, so this was a beautiful bonus.
Passion for food aside, what does it take to earn a Michelin star in your opinion?
Passion for the craft is obviously an integral part of the journey to earning a Michelin star, that aside, it's about taking the time to source the best ingredients from all corners of the world, being able to think creatively and outside of the box as well as creating a team that shares the same vision as you.
What's your advice for young aspiring chefs?
Take the time to build a solid foundation first, learn traditional techniques and then as you develop and grow you can be more creative, putting a unique spin on the classics.
Looking at global culinary trends, what do you believe the consumer of today is looking for from a dining experience?
Firstly, people are becoming more conscious of where the ingredients in their food is sourced. Secondly, I think that diners don't like to think too much these days, which is why special chef's menus and degustation's are becoming more popular.
Are there any chefs in particular that you look up to and admire for their work?
I think that all chefs are interesting in their own way.
If you could travel anywhere for just one night to enjoy a meal, where would you go?
Keeping it close to home, I would have to say Sicily. It is where you find some of the best and freshest ingredients in the world.
To find out more about Enrico Bartolini follow him on Instagram @chef_enricobartolini or visit www.enricobartolini.net