Deliverect, a global scale-up that integrates and accelerates online orders for restaurants, has revealed the introduction of its prestigious 'Deliverect Star' accolade
Deliverect has launched a long-term campaign to acknowledge and celebrate customers who have consistently achieved a 0% failure rate in their orders since the start of the year. Each month, Deliverect will select one restaurant for recognition and the coveted 'Deliverect Star' award.
This initiative aims to honor and spotlight restaurants that effectively manage online orders from different food aggregators and channels, all of which are partners with Deliverect, within the region. The accomplishment reflects their efficient operations, encourages positive online reviews, and ultimately contributes to the long-term prosperity of the restaurant.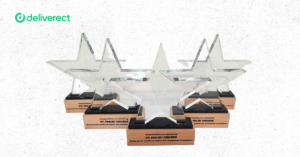 Through the identification of industry frontrunners, Deliverect aims to not only commend their remarkable operational prowess but also showcase them as exemplary models for others to follow. The award bestows substantial visibility and prestige upon the winners, elevating their reputation as providers of exceptional customer experiences through the execution of online orders.
The winners will be presented with a printed certificate and a trophy to commemorate their achievements. Deliverect will further support the selected winners by showcasing their success on social media and in email newsletters, allowing them to share their accomplishments with the wider community. In addition to their accolades, the chosen top performers will be granted a digital badge to display on their online platforms and a specially branded box containing delightful office desk goodies.