Renowned chef Michael Kitts, Director of Culinary Arts at The Emirates Academy of Hospitality Management is inviting all chefs and restaurateurs to experience an exciting virtual workshop on December 12 at 11am. For those passionate about hospitality, learn how to make a delish festive treat just in time for the holiday season.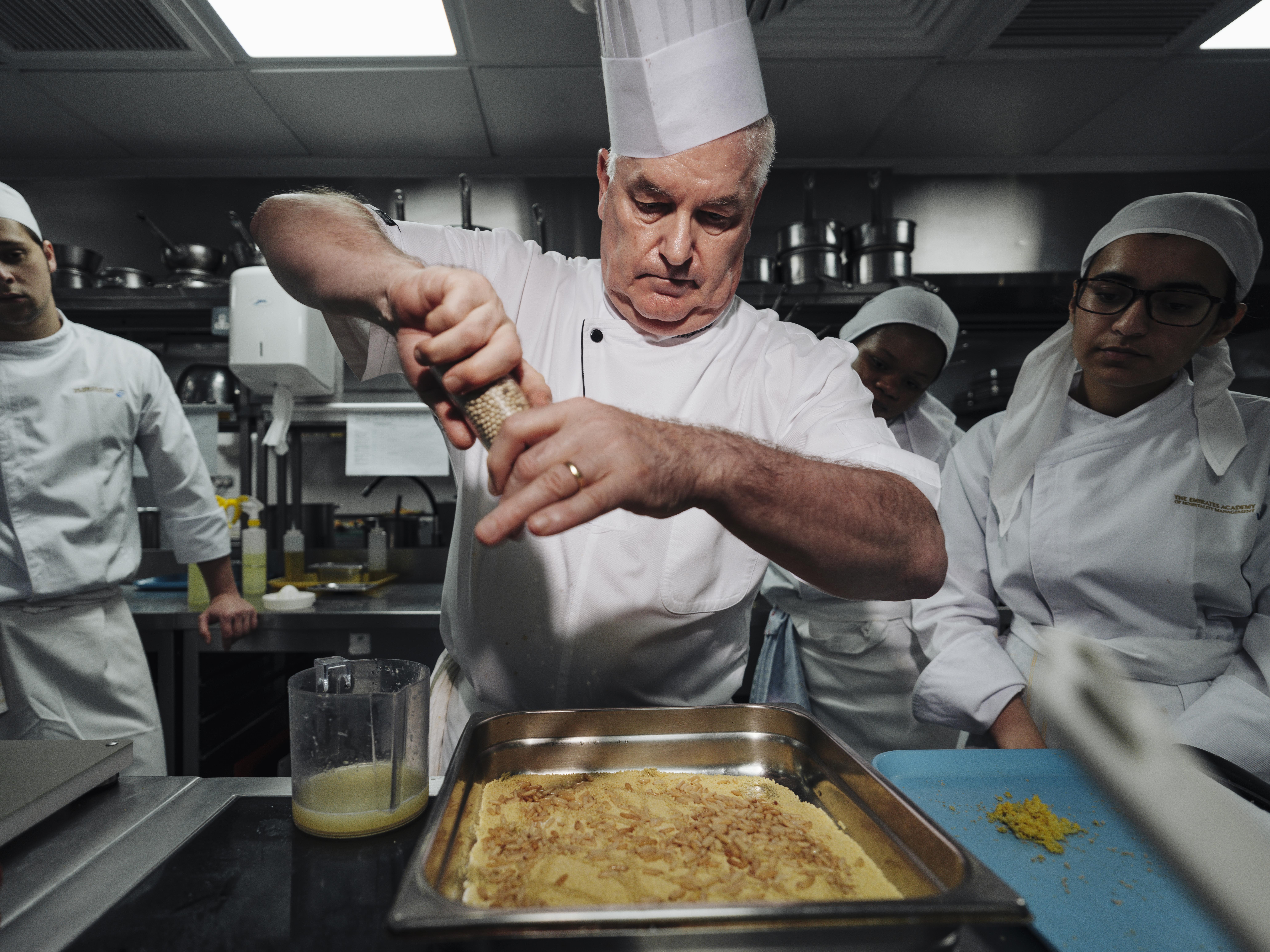 Festive Yule Log
Chocolate Sponge
4 large eggs
114g caster sugar
1tsp vanilla extract/essence
100g all-purpose flour, sifted
20g cocoa powder, sifted
Butter Cream
400g unsalted butter (room temperature)
1tsp vanilla 20ml cream extract/essence
400g icing sugar, sifted
100g dark chocolate, melted
You will also require
1 jar of strawberry/raspberry jam
500g packet of white marzipan
medium star nozzle
1 piping bag
1 sheet silicone paper
8 Digestive biscuits
Cinnamon powder
Icing sugar and a fine sieve
1 set leaf (Ivy) cutters
Large 30cm plate or cake board
Food colours: red, dark green, brown, yellow
Method
For the chocolate sponge, place the eggs, sugar and vanilla into a mixing bowl, whisk on high speed for 8-10 mins until at least 4 times in volume, (the ribbon stage).
Mix together the flour and cocoa and fold-in half of the flour mix into the whisked egg mixture.
Gently fold-in the remainder of the flour/cocoa and pour into a 20cm cake tin.
Bake for 25 mins at 170C. Then remove from tin and allow to cool.
For the butter cream, place the butter and vanilla into a mixing bowl, whisk until pale and fluffy.
Gradually add the cream and then add the icing sugar in phases.
When completely combined, remove 1/3 of the mixture.
Gradually add the melted chocolate into the remaining butter cream.
Book your place here: bit.ly/festive-cook-along or contact +9715 8942 5954.