The eagerly awaited annual 'World's 50 Best Restaurants' awards ceremony recently took place in Bilbao, Spain, to reveal this year's best in culinary class around the world. The sought-after list saw 23 countries across six continents honoured, culminating with Massimo Bottura's Osteria Francescana reclaiming the No.1 spot.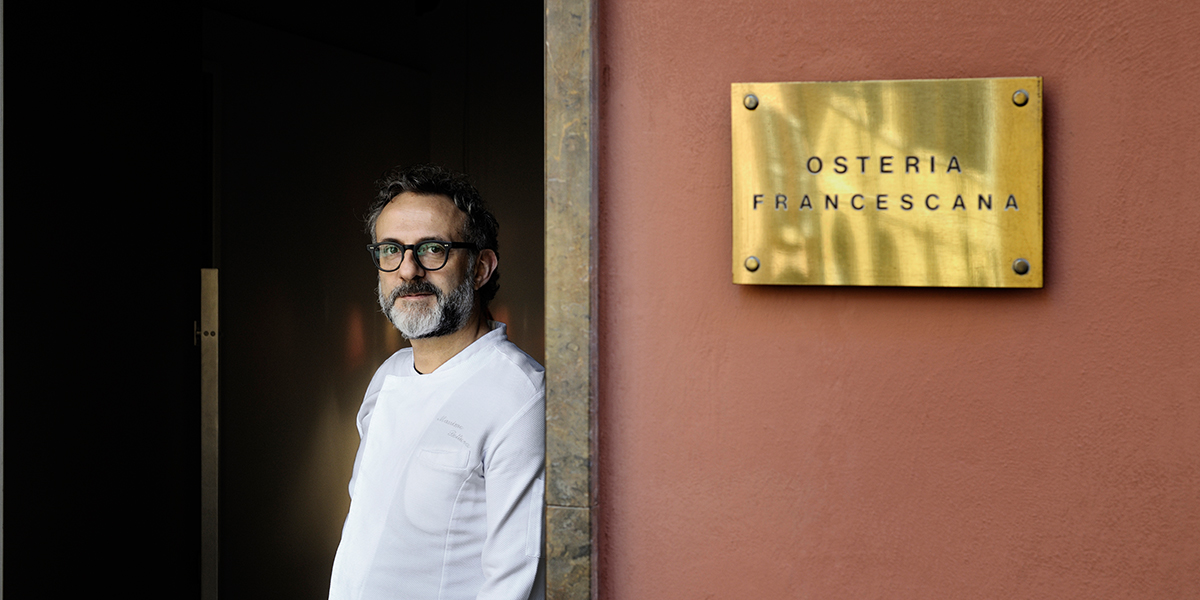 Osteria Francescana, which previously held the No.1 position in 2016, was joined in the top three by El Celler de Can Roca (No.2), in Girona, Spain, and Mirazur (No.3), in Menton, France. The top spot for Osteria Francescana is testament to Bottura's continued commitment to driving forward the restaurant's unique character. The discreet Modena restaurant serves Bottura's contemporary cuisine, which challenges and reinvents Italian culinary tradition while making use of the finest produce from the Emilia-Romagna region.
Spain boasts seven restaurants on the list, including three in the top 10: El Celler de Can Roca (No.2); Mugaritz (No.9) and Asador Etxebarri (No.10). The USA follows closely with six restaurants on the list, including last year's winner Eleven Madison Park in New York (No.4).
France has five restaurants on the list, with two in the top 10: Mirazur in Menton (No.3) and Arpège (No.8) in Paris, and the UK and Italy are represented by four restaurants each. Peru, with three restaurants in the list, includes two in the top seven alone: Central (No.6) and Maido (No.7), both in Lima.
Having received the Miele One To Watch Award in 2017, Disfrutar in Barcelona continues its rise by winning the 2018 Highest New Entry Award, debuting at No.18. Meanwhile Den, in Tokyo, Japan, picks up the 2018 Highest Climber Award, having jumped from No.45 to No.17 in just one year.
Odette in Singapore is another notable new entry at No.28, having opened less than three years ago. Hiša Franko, Slovenia's first restaurant on the list, debuts at No.48, representing another triumph for Ana Roš, the 2017 winner of The World's Best Female Chef Award.
Mikla in Istanbul (No.44) represents Turkey's first restaurant on the list since 2002, and Maaemo in Oslo (No.35) brings Norway back onto the list for the first time since 2003. Lyle's in London is also a newcomer, debuting at No.38. Nihonryori RyuGin, from Tokyo, Japan (No.41), Schloss Schauenstein from Fürstenau, Switzerland (No.47) and The Test Kitchen from Cape Town, South Africa (No.50) have all re-entered the list.
Dan Barber of Blue Hill at Stone Barns in Pocantico Hills, USA (No.12), won the Chefs' Choice Award. The Chefs' Choice Award is bestowed on an individual believed by their peers to have made the most significant contribution to the industry over the last year and is a testament to Barber's innovative work and commitment to the debate around food ethics.
The Ferrari Trento Art of Hospitality Award goes to Geranium from Copenhagen, Denmark (No.19). Cofounder Søren Ledet, an award-winning chef, made the transition from the kitchen to the restaurant floor when founding Geranium and as the sommelier and front of house manager has propelled the restaurant to the highest standards of hospitality.
Azurmendi from Larrabetzu in the Biscay region of Spain (No.43) wins the Sustainable Restaurant Award, led by head chef Eneko Atxa, Azurmendi previously won this award in 2014 and this year's achievement recognises the restaurant's continual improvements in sustainable practices. These include planting 800 trees around the restaurant and developing a project with local families and bars to turn their organic waste into compost for the region's farmers.
French sensation Cédric Grolet received The World's Best Pastry Chef Award. Head pastry chef at Le Meurice, Paris, part of The Dorchester Collection, Grolet has this year spearheaded Le Meurice's Pastry Boutique and continues to create waves by integrating gastronomy and art with his unique patisserie and trompe l'oeil fruit creations.
The World's 50 Best Restaurant's 2018
Osteria Francescana; Modena, Italy
El Celler de Can Roca; Girona, Spain
Mirazur; Menton, France
Eleven Madison Park; New York, USA
Gaggan; Bangkok, Thailand
Central; Lima, Peru
Maido; Lima, Peru
Arpège; Paris, France
Mugaritz; San Sebastián, Spain
Asador Etxebarri; Axpe, Spain
Quintonil; Mexico City, Mexico
Blue Hill at Stone Barns; Pocantico Hills, USA
Pujol; Mexico City, Mexico
Steirereck; Vienna, Austria
White Rabbit; Moscow, Russia
Piazza Duomo; Alba, Italy
Den; Tokyo, Japan
Disfrutar; Barcelona, Spain
Geranium; Copenhagen, Denmark
Attica; Melbourne, Australia
Alain Ducasse au Plaza Athénée; Paris, France
Narisawa; Tokyo, Japan
Le Calandre; Rubano, Italy
Ultraviolet by Paul Pairet; Shanghai, China
Cosme; New York, USA
Le Bernardin; New York, USA
Boragó; Santiago, Chile
Odette; Singapore
Alléno Paris au Pavillon Ledoyen; Paris, France
D.O.M.; São Paulo, Brazil
Arzak; San Sebastián, Spain
Tickets; Barcelona, Spain
The Clove Club; London, UK
Alinea; Chicago, USA
Maaemo; Oslo, Norway
Reale; Castel di Sangro, Italy
Restaurant Tim Raue; Berlin, Germany
Lyle's; London, UK
Astrid y Gastón; Lima, Peru
Septime; Paris, France
Nihonryori RyuGin; Tokyo, Japan
The Ledbury; London, UK
Azurmendi; Larrabetzu, Spain
Mikla; Istanbul, Turkey
Dinner by Heston Blumenthal; London, UK
Saison; San Francisco, USA
Schloss Schauenstein; Fürstenau, Switzerland
Hiša Franko; Kobarid, Slovenia
Nahm; Bangkok, Thailand
The Test Kitchen; Cape Town, South Africa
Details: For more information, visit The World's 50 Best Restaurants. If you enjoyed this article, you may like this story on this new restaurant launch in Dubai.