A new lifestyle destination called Tonino Lamborghini Mare Nostrum Skypool Restaurant is being unveiled at West Palm Beach on the Palm Jumeirah by Fendale Logistics, a rapidly expanding logistics firm in the UAE, and Tonino Lamborghini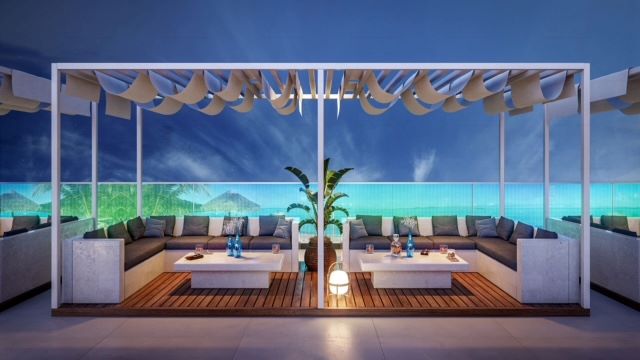 Tonino Lamborghini Mare Nostrum, which means "our sea" in Latin, is an opulent Mediterranean venue that combines music, dining, entertainment and art. Opening in September, it will set the benchmark for luxury dining in Dubai's expanding culinary scene.
"We draw inspiration from the Mediterranean Sea and its deep history. A symbol of the shared connection that continues to prevail amid past conflict. Similarly, we all share this concrete jungle despite coming from all walks of life and every part of the world," explains Russell Treadwell, Co-Founder.
"Tonino Lamborghini Mare Nostrum is a match made in partnership heaven. Sharing similar values such as an emphasis on family, dedication to excellence, and savoir-faire, we will focus on elevating both brands by leveraging what we do best from design and food to providing an exceptional experience any time of the day," explains Alex Blahyj, Co-Founder.
Tonino Lamborghini Mare Nostrum is a restaurant, a pool club and a bar in picture-perfect rooftop setting with breath-taking views of The Palm, Dubai Marina, Burj Al Arab, Burj Khalifa and Ain Dubai.
The menu immerses diners in the flavours of the Mediterranean and places a strong emphasis on using the finest and freshest ingredients. Tonino Lamborghini Mare Nostrum gives guests a sumptuous, elegant yet laid-back day-to-night experience ideal for lazing in the sun or enjoying after-hours beverages with friends, including specialty concoctions, the finest grapes and a delectable menu from Chef Sydney de Hart.
The design, which combines dark wood pieces with cream-colored draperies and greenery, is reminiscent of the splendour of the Mediterranean shoreline. It exudes elegance and unmatched luxury and is topped with a stunning view of the Arabian Gulf.
The entire space will have a Tonino Lamborghini touch. Visitors will be taken step-by-step inside the Lamborghini universe from the moment they enter until they leave.
Level 14 of Radisson Resort Hotel at West Beach The Palm Jumeirah. Daily from 11-1am