Executive Chef Gurkan Gozyilmaz is joined by Executive Sous Chef Ozden Erkmen and Executive Pastry Chef Can Mergen to create exceptional dining experiences
Waldorf Astoria Kuwait has introduced its new culinary team, comprising Executive Sous Chef Ozden Erkmen and Executive Pastry Chef Can Mergen, under the guidance of Executive Chef Gurkan Gozyilmaz. Leading a team of exceptional culinary professionals, Executive Chef Gurkan Gozyilmaz oversees all culinary operations at the hotel's prominent F&B outlets including AVA restaurant, Peacock Alley, and OXIO poolside lounge and bar, as well as in-room dining, and events.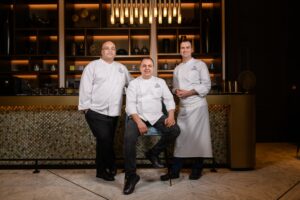 With an impressive background spanning over 17 years of international and regional experience, Chef Gurkan seamlessly blends diverse cultures with local flavours to create culinary masterpieces. As a seasoned culinary expert, Chef Gurkan's extensive expertise coupled with his comprehensive understanding of all operational aspects, enable him to lead the team in delivering unforgettable hospitality experiences to every guest.
Executive Sous Chef Ozden Erkmen joins the F&B team at Waldorf Astoria Kuwait, bringing his expertise from being the Chef de Cuisine at the renowned AVA restaurant. As the new Executive Sous Chef, Ozden oversees all culinary operations in the hotel, working alongside Chef Gurkan to provide guests with an exceptional dining experience. With a diverse background and global experience, Ozden's skills perfectly complement Chef Gurkan's, ensuring unparalleled dining experiences for the hotel's guests.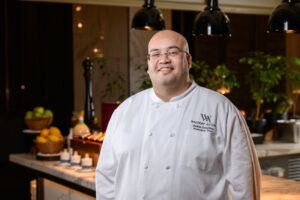 Executive Pastry Chef Can Mergen further brings a distinctive touch to the culinary offerings at Waldorf Astoria Kuwait. With creative concepts for classic pastries, Chef Can not only creates new recipes for afternoon tea menus but also ensures smooth operations in all pastry-related aspects of the F&B outlets. Working closely with a remarkable team of culinary professionals and collaborating with other departments, Chef Can upholds the highest standards of service for guests. Through his continuous innovation and invaluable contributions, Waldorf Astoria Kuwait exceeds expectations and establishes itself as a leading presence in the hospitality industry.
With Chef Gurkan at the helm, overseeing all culinary operations, the talented team of experts is poised to deliver an unforgettable culinary journey to guests. Beyond offering a diverse array of unparalleled dining experiences, the team also provides customized catering services for weddings and events, ensuring each occasion is perfectly tailored to meet the unique needs and preferences of guests.