Angela Aguilera Diaz, the new Sous Chef of the Italian restaurant Piaceri Da Gustare, boasts over ten years of culinary expertise 
Having started her culinary journey over a decade ago in Mexico, Angela underwent training at the prestigious Capri Riviera Cancun before honing her skills across multiple locations, including the Dominican Republic, the United States, Europe, Doha, and St. Vincent and the Grenadines, while working for several elite hospitality groups, such as the Mandarin Oriental Hotel Group, Banyan Tree, and the Viceroy Hotel Group.
"As I step into my new role as the Sous Chef at Piaceri Da Gustare and join the Hilton Ras Al Khaimah Beach Resort team, I'm humbled and excited by the opportunity to add value to this renowned establishment," said Angela Aguilera Diaz. "As a chef, I'm deeply committed to promoting diversity and inclusivity in the culinary industry, and I feel honoured to work for a brand that shares these values. This new position presents an exciting opportunity to showcase my expertise and creativity while bringing a fresh perspective to the restaurant's culinary offerings. I look forward to collaborating with the team to deliver an exceptional dining experience to our guests and elevating Piaceri Da Gustare's appeal even further."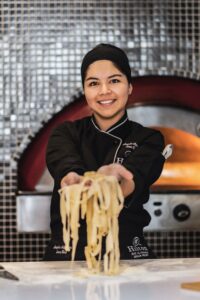 Angela brings her extensive knowledge and expertise to Piaceri Da Gustare and continues to exhibit her exceptional culinary abilities in a diverse range of specialties.
Visit website.