Subway unveils a one-of-a-kind campaign, powered by A.I., to introduce extra cheesy SubMelts in the UAE, KSA, and Kuwait
Powered by cutting-edge technology, including state-of-the-art A.I. software imaging and a touch of nostalgia, Subway has embarked on a series of innovative activities to showcase their revolutionary creations. Subway hosted an exclusive blind taste preview of the new SubMelts, featuring six unsuspecting participants from different regions. Participants were encouraged to vividly describe their experience, from the initial bite to the delightful stretch of cheese and the perfect last mouthful. The results were exceptional, as each participant unlocked a flood of fond memories associated with their favourite cheese sandwiches.
As the participants reminisced about these heartwarming memories, Subway's tech team diligently transcribed their every word, feeding the narratives to Midjourney, the latest A.I. imaging machine. Midjourney, with its remarkable capabilities, created custom A.I. portraits for each participant, seamlessly blending their initial impressions of the SubMelt with their most cherished recollections. For instance, one participant, whose son adores beach outings, received a delightful depiction of a sunset beach picnic with her son, all relishing a hearty and delicious SubMelt. Each printed image allowed the participants to revisit their beautiful memories, fully immersing themselves in the moments they had vividly described.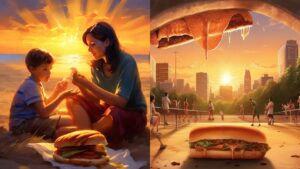 To amplify the launch, the brand collaborated with Vertex, a renowned 3D production house, to create a captivating video that showcases the SubMelts taking over the streets. With the assistance of drones, the video captures the hot and cheesy SubMelts soaring across the skyline, accompanied by an epic display of melting cheese, creating a visually stunning spectacle. Subway further partnered with Cinema Akil, for guests to enjoy complimentary SubMelts while indulging in their favourite feel-good movies.
The Subway SubMelts, now available at outlets across the UAE, KSA, and Kuwait, feature four specialty panini-style toasted sandwiches: The Big Cheese Steak, Chicken and Mushroom Supreme, Dynamite Chicken, and Bella Mozzarella.