Taj Jumeirah Lakes Towers opened its doors in late 2019, bringing with it the international debut of the brand's heritage restaurant – Shamiana. Speaking in a one-to-one with The Pro Chef Middle East, executive chef Sonu Koithara tells us more about bringing the 47-year-old concept to a new market.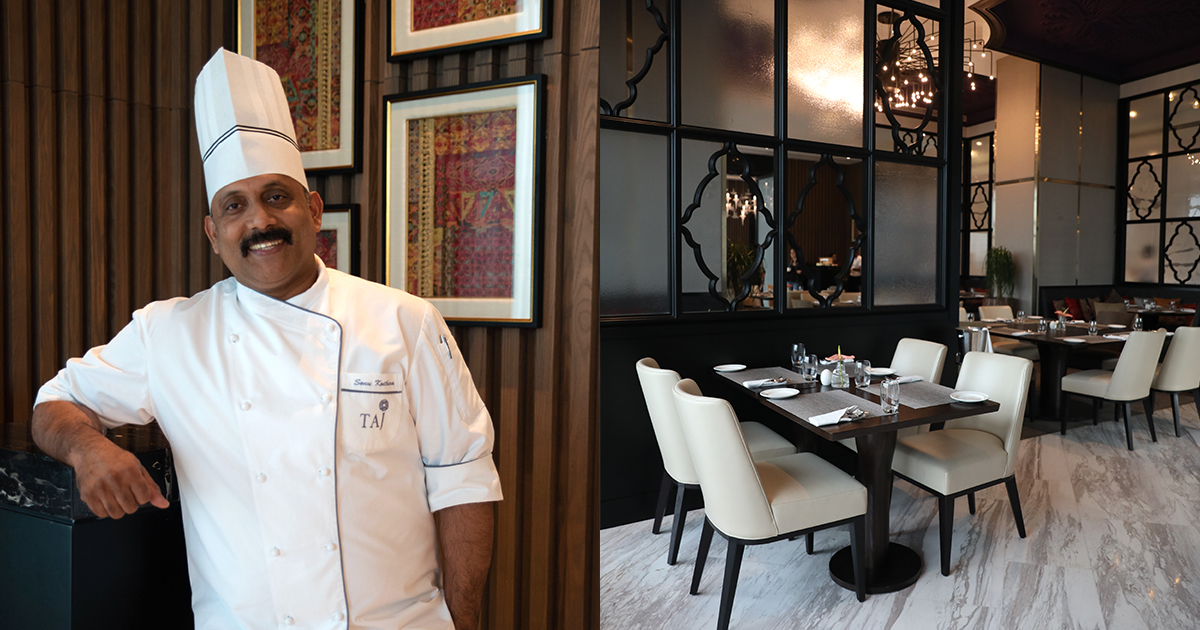 Tell us more about the concept behind Shamiana, and what diners can expect when they visit?
Shamiana is our heritage restaurant, hailing from the iconic Taj Mahal Palace in Mumbai. Originating in 1973, Shamiana is an institution and a favourite for generations of Mumbai residents. At Taj Jumeirah Lakes Towers, we aim to capture that same spirit and become the 'go-to' restaurant when craving home-cooked flavours and great Indian food. We serve an authentic pan-Indian menu prepared with top quality ingredients and a touch of love. We also offer a choice of international dishes.
Will Shamaina be serving cuisine from across India, or focusing on specific regional specialities?
At Shamiana, diners can embark on a culinary journey through the heart and soul of India. Ranging from kebabs from the North Western Frontier Province to biriyanis from Hyderabad, UP, Kolkata and the Malabar region. One can also savour flavourful curries from around the coastal areas and enjoy a pan-Indian cuisine experience.
Where do you source ingredients for Shamiana, and which suppliers are you using in the UAE?
We source all our ingredients from reputed suppliers across UAE who are established for their high quality and authentic ingredients.
Are there any ingredients that you're particularly enjoying working with at the moment?
Fresh green peppercorns make me reminisce about the time I spent with my mother, learning how to cook in her kitchen. It's something I enjoy using in my recipes.
Do you struggle to source any ingredients for the restaurant that you wish you could use?
We are very lucky to be in this market as we have a wide range of product availability. Vendors are very supportive in sourcing any special ingredients that are required. 
What are some of the standout dishes you'd recommend trying from the menu?
While the Shamiana Lamb Chops and the Ajwaini Jhinga are standout dishes from the tandoor, we are extremely proud of our Dal Makhani; some guests even take an extra portion home when they leave!
How does Shamiana's offering differ from other Indian outlets in the city?
Shamiana stays true to its origins and is a genuine manifestation of traditional Indian culture. Our vision was to create a restaurant that would transport diners to India and serve dishes that would evoke a sense of nostalgia. The Taj brand has been in existence for 116 years and we feel a tremendous responsibility to be the custodians of India culture and heritage. It this sincerity and homage to our legacy that differentiates Shamiana from the many other Indian restaurants in the city.
Tell us about your journey so far as a chef – where did your interest in the kitchen first begin?
I began my career with The Indian Hotels Company Limited (IHCL) in 1995, and subsequently gained twenty-five years of international culinary experience with other chains. Prior to this role, I led teams at some of Taj Hotels' most iconic properties, such as Taj Bengal, Kolkata, and Umaid Bhawan Palace, Jodhpur; often curating menus for royalty, diplomats and famous faces including legendary football player Pele, international supermodel Naomi Campbell and Bollywood superstar, Shahrukh Khan.
Whilst in London, I had the opportunity to train under illustrious Michelin-star chefs, Bruno Loubet and Jerome Tauvron. Like so many chefs, my interest in cooking began in my mother's kitchen, and from a young age I would spend a lot of time helping and watching my mum cooking. It was the aroma of the fresh spices and herbs that got me hooked. 
How would you describe your cooking style?
I love working with the freshest produce and using traditional home-recipes from around the world.
Which region in India do you prefer for its cuisine and why?
South India, due to the versatile cuisine across the region (Syrian Christian, Travancore and Malabar cuisines). The opportunity to use hand-plucked spices, herbs, home-grown fruits and vegetables, and fresh seafood straight from the fishing boat, makes the food even more delicious.
What do you foresee as the next big culinary trend in Indian cooking?
Indian restaurant food is amidst a reflective moment wherein chefs are bringing in their own culinary cultures. Home-style cooking or the much-valued 'Maa ka khaana' (mother's cooking) using fresh ingredients that are available locally has become increasingly popular. People are very health-conscious nowadays and carefully choose what they eat.
For more chef interviews, click here.