OSH Del Mar derives its name from two essential components, symbolizing a seamless blend of the lively tastes of Uzbekistan and Central Asia with modern advancements in the culinary world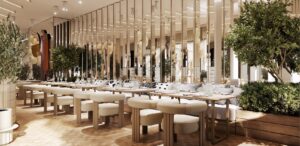 The venue embodies the essence of contemporary Uzbek cuisine, showcasing an extensive selection of traditional flavours and culinary heritage. The name "OSH" symbolizes this culinary heart and soul. On the other hand, "Del Mar," derived from Spanish, translates to "From the Sea," emphasizing the restaurant's focus on seafood and fish, creating a delectable fusion of land and sea on every plate.
OSH Del Mar presents an innovative approach to open-fire cooking, utilising three distinct charcoal grills, including Josper, robata, and spit, along with other specialized ovens, all enhanced by natural wood smoke. The restaurant has also introduced fish ageing cabinets, carefully controlling the temperature to achieve a delicate, organic, and rich taste. The menu at OSH Del Mar caters to all tastes, from comforting dishes with a spicy twist such as kebabs and seafood delights to an impressive selection of grapes from around the world.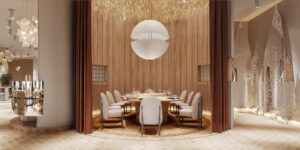 The interior design combines elegance and comfort, offering breathtaking views of Blue Water Island, the Marina's lagoon, and Palm Jumeirah. The captivating atmosphere, complemented by the thoughtful decor, transports guests to a place where flavours, aromas, and hospitality intertwine.