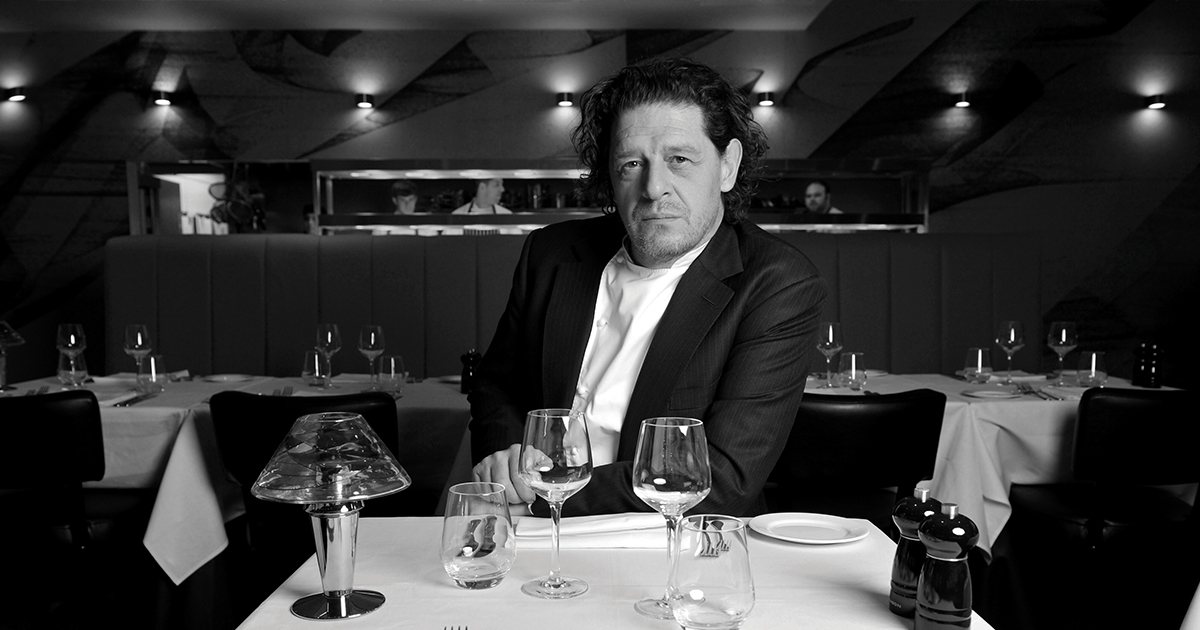 Internationally-acclaimed chef and restaurateur Marco Pierre White has opened his second Abu Dhabi-based restaurant, Marco's New York Italian at Fairmont Bab Al Bahr in Abu Dhabi. His first restaurant in the capital, Marco Pierre White Steakhouse, Bar & Grill is located within the same property.
Inspired by his Italian heritage and love for New York, the restaurant will serve a variety of dishes that reflect the latest trends from 'the city that never sleeps'. Marco's New York Italian stays true to chef Marco's roots, with an ethos to ensure dishes are always fresh, authentic and simple whether for lunch, brunch, dinner, friends, family or business gatherings.
Marco's New York Italian marks Studio EM's first collaboration, and a joint venture with the newly formed Black and White International, an expert hotel management company, and RMAL Hospitality a dedicated hotel and restaurant development business. Studio EM's vision was to create a space that combined the sophistication and style of Italian cuisine with the urban, artistic and dynamic vibes of New York specially that it's the first international branch of this restaurant chain.
Telling more about his new opening, here's what chef Marco shared with us…
Tell us about your new restaurant Marco's New York Italian…
The New York Italian has been inspired by my Italian heritage and love for New York. It will reflect the hustle and bustle of the Big Apple as well as my passion for classic, simple and authentic food. Customers will be able to look forward to enjoying a mix of Italian-inspired dishes and American classics from a menu created by myself while feeling they've been transported to the diners of New York. What's important is that people understand that we're not just selling a meal. It's a night out with friends, or a family lunch. To me, the atmosphere and the environment in which we sit, and service is just as important as the food and that is what people can expect here.
What kind of dining experience will Marco's New York Italian offer?
It represents friendly, casual dining and will give the people of Abu Dhabi a great new place to go out and eat where good food is served in a friendly, bustling atmosphere. The menu offers a fresh alternative, where authentic, uncomplicated food is served promptly, which is what I think the people here want. We want groups of friends and couples to come in to enjoy lunch or dinner or to celebrate a special occasion. It's not pretentious, it's just good food, served in a great environment.
Tell us about some of the stand-out dishes on the menu…
The dishes on this new menu certainly pay homage to New York and America, and perfectly complements some of my favourite Italian dishes. I've also been conscious that we remain true to the New York Italian principle to offer a fresh alternative, where authentic, uncomplicated food is served promptly. Of course, favourite dishes depend on the occasion and time of day. The pizzas for example are based on the northern Italian style which are crusty and have a thin base. The whole idea is that you hold the crust to eat the food and then get rid of it. There's also sharing platters, seafood, steaks and pastas. These are complemented by American classics including New Orleans steaks and the Great American Beef Burger, served with hickory smoked BBQ glaze and Monterey Jack cheese. The main thing is as long as the service is attentive and not overbearing, the atmosphere is fun and relaxing and the food is good, then we've achieved what we set out to do and that's giving people a great lunchtime or evening out.
In your absence, who handles the kitchen at Marco's New York Italian?
Here at the MPW New York Italian there's a foundation and infrastructure. I'm also a great believer that you employ the right hierarchy who then build their own team. I like to think myself as a bit of a composer, thinking up new ideas, dishes and designs all the time and get totally immersed in the development of any new venue and brand. The team around me then gets on with the day-to-day and there's a great team in place here in Abu Dhabi.
As we move into 2020, how do you see the world's culinary landscape developing?
To me, the future of dining out is making everything affordable, delicious and in an environment that offers warm service – I don't think it's complicated. Simple and straight forward, that to me is the future.
Details: To visit Marco's New York Italian, call +971 2 654 3238 or visit marcosabudhabi.com