Gordon Ramsay's Hell's Kitchen is now open at the brand-new Caesars Palace, Bluewaters Dubai – marking the second global outpost and first-of-its-kind opening in the Middle East.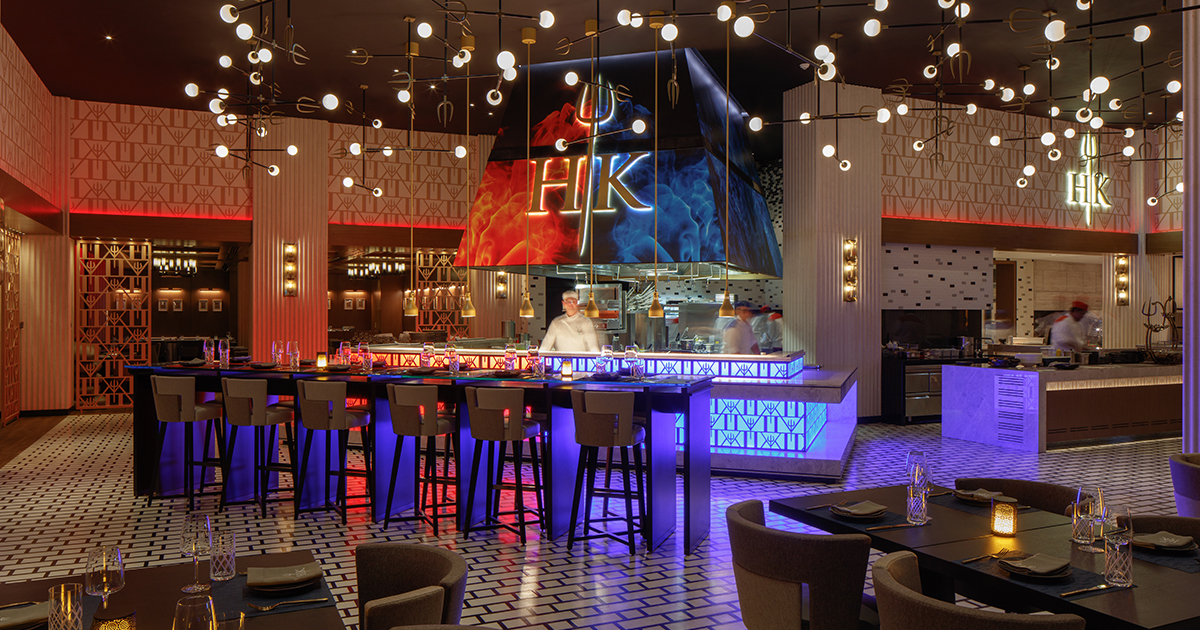 The destination dining experience,inspired by the international hit television show, serves the same cooking that made its Las Vegas counterpart a runaway success when it launched in January 2018.
Created by the multi-Michelin starred chef, Gordon Ramsay, the experiential and immersive destination restaurant has been designed to create maximum drama. Guests are transported to the studio set via interior flourishes such as the signature fiery pitchfork direct from the set and Hell's Kitchen iconic "H" to pitchfork symbols cleverly featured in custom-designed, laser cut screen partitions and gold monogram wallpaper.
Chefs and cooks are kitted out in the exact Hell's Kitchen show uniforms – red and blue jackets with coordinating bandanas – but with a key difference. While in the series outfits denoted male or female teams, at Hell's Kitchen Dubai the jacket colours showcase which team member prepares what; team blue, is on cold starters and desserts, while the reds prepare the hot starters and main dishes. In charge of the dynamic kitchen team, Head Chef Craig Best leads under the guidance of Christina Wilson, winner of Hell's Kitchen Season 10 and Executive Chef of Gordon Ramsay Restaurant Group.
"Fans of the show have been asking us to open a Hell's Kitchen restaurant for a very long time and after the huge success of Hell's Kitchen Caesars Palace, Las Vegas, I'm delighted to bring the magic to Dubai such a vibrant, exciting city," said Gordon Ramsay. "As part of the Caesars Bluewaters Dubai resort, Hell's Kitchen will bring a whole new level, flames and all, to an already buzzing food scene."
Open everyday for breakfast, lunch and dinner, several of the most successful signature menu items featured on the television show and the Las Vegas restaurant can be found at Hell's Kitchen Dubai.
Details: Reservations are available for lunch and dinner and can be made online here.