This year's edition, anticipated as the largest ever will assemble over 2,000 exhibitors, featuring renowned global F&B production giants, and will span across 15 expansive halls.
As Gulfood Manufacturing approaches its momentous 10th anniversary next year, it continues to draw attention from prominent players across various production sectors, including processing, packaging, ingredients, supply chain solutions, and control & automation, all aiming to chart a path toward a more sustainable, resilient, agile, and efficient future. Beyond the exhibition arena, more than 100 influential decision-makers within the F&B industry and leading experts will convene to explore the latest industry trends and strategies for seizing business opportunities while addressing the sector's challenges.
With COP28 occurring shortly after the event, Gulfood Manufacturing 2023 will sharpen its focus on sustainability by examining the integration of sustainable practices like eco-friendly packaging, reducing food waste, adopting energy-efficient machinery, and advocating for traceable, ethical, and transparent food production.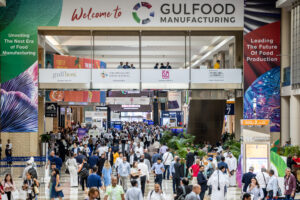 Furthermore, the event will delve into themes encompassing the impact of AI, robotics, and automation on enhancing efficiency, the digital transformation of the F&B manufacturing sector, fostering revolutionary innovation, and elevating industry standards. Reflecting its status as a pinnacle event in the food production industry, Gulfood Manufacturing 2023 has already secured participation from leading ingredients brands such as Apical (Platinum Sponsor), Cargill, Givaudan, Wilmar, Kerry, Dohler, Orkila, Fanar, Takasago, and more. The packaging and processing segment will also feature global powerhouses like Tetra Pak, GEA, Krones, Husky, Sidel, Ishida, TNA, SIG, and Rieckermann.
This year's edition promises a significant presence from European manufacturers, hailing from Italy, Germany, the Netherlands, and Spain. Additionally, the Chinese Pavilion will return in full force, occupying a dedicated bespoke hall.
A focal point of this year's event will be Dubai's Green and Sustainable Manufacturing initiative, aligned with the Dubai Economic Agenda. As the plant-based F&B industry experiences growth and innovation, there is a corresponding need for new plant-based food manufacturing facilities. The initiative aims to unite plant-based F&B industry leaders with co-manufacturers, equipment providers, and solution providers to explore the challenges and opportunities in effectively scaling up plant-based production in Dubai.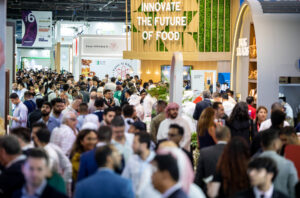 At the heart of the event, the FoodTech Summit will once again gather industry experts, decision-makers, and thought leaders from around the world. They will offer insights and strategies on various topics, including cost management, innovation economics, sustainable practices, smarter manufacturing, alternative products, functional foods, food safety, and much more. Distinguished speakers include Samuel Sigrist (Group CEO, SIG), Adolfo Orive (President & CEO, Tetra Pak), Alavaro Martinez (CEO – Western Europe, Middle East, Africa & Latin America, GEA), Adam Adamek (Innovation Director, EIT Food), and Olga Bezukladova (Regional Head of Innovation – SAMEA – Taste & Wellbeing, Givaudan).
Gulfood Manufacturing 2023 will be co-located with three other DWTC food and beverage events from November 7 to 9, 2023. The Speciality Food Festival, ISM Middle East, and Private Label Licensing ME will provide a comprehensive platform for industry professionals, allowing them to explore gourmet and fine foods, sweets and snacks, and customisable private label products, branding, and packaging solutions, all under one roof. Registration is free and grants access to all four co-located events with a single pass.
For more information and to register, visit Gulfood Manufacturing, The Speciality Food Festival, ISM Middle East, and Private Label Licensing Middle East.