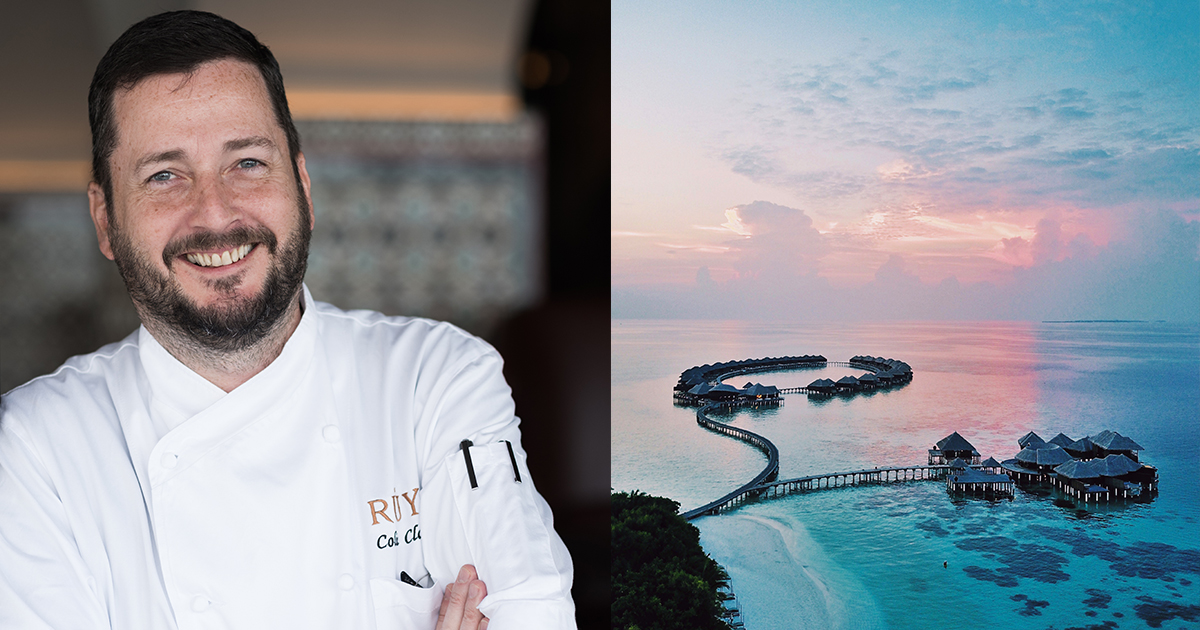 Representing the UAE in the dreamy island paradise of Maldives, chef Colin Clague partnered with Coco Bodu Hithi in August 2019 to host two exclusive tasting menu dinners and a guest masterclass at the resort's seafood-led, fine dining restaurant Aqua.
During his guest culinary residency, Colin brought a refined taste of Anatolian cuisine to the resort. Rüya's quest as a brand is to preserve the true DNA of Anatolian food, and Colin's work reflects this in each of his dishes, which are prepared according to ancient recipes but presented with a fresh contemporary twist.
Colin's exclusive 6-course tasting menu saw diners delight in expertly prepared dishes including Levrek – seabass sashimi with mustard, apple, and shaved radish, Yer elmasi corbasi – Jerusalem artichoke soup with smoked eggplant purée, Zeytinyagli ahtapo – marinated grilled octopus, black eyed beans, and apple vinaigrette, and Firin Sutlaç – traditional Anatolian rice pudding with raspberries, rose ice cream, and more.
Speaking from the opening night of his residency, Colin shared: "It's brilliant to be here. It's been a challenge – coming from Dubai where everything is current and upbeat, to an island resort where everything is so much more relaxed – but what a fantastic experience to cook surrounded by clear blue ocean waters. Heading for a dive before hitting the kitchen is a dream set-up. I can't complain really, can I?"
Sharing more from his experience, we caught up with Colin after his residency to hear how it went…
Tell us about your culinary residency at Coco Bodu Hithi and what you got up to in the kitchen while you were there…
I was asked to do a week's promotion at the Coco Bodu Hithi, I was required to do two dinners and a cooking class, both evenings had totally different menus, and the main aim was to give the guests a different experience, but also to show the chefs another style of cooking, so they could improve their skills and style.
How did the opportunity arise?
I was approached through our PR company from the hotel.
You're leading the way for Turkish cuisine in both Dubai and London. How did your guests in the Maldives respond to your food?
Hardly! We are doing well, and we want to promote the brand as much as possible, but it's all about the guests seeing another side of Turkish food. There were no kebabs at the pop-up in the Maldives and as I talked to the guests, it was about the other side of Turkish food and what we are trying to achieve. As it was Eid there was a high contingent of Middle Eastern guests, which was fantastic, as that is where we're seeing a large growth area.
What was the most memorable part of the experience?
Seeing my family, who joined me on the trip, so happy was the best and getting a couple of dives in is always a plus, but as always it's about meeting and talking to new chefs – that's what it's all about.
Why do you think initiatives like this are good for culinary teams at resorts like Coco Bodu Hithi?
Cooking is a learning experience, when you stop learning or you think you know it all, it's time to retire. You never stop learning. I hope they learnt some new ideas from me, as I certainly did from them. Many years ago during my Zuma days, I did a promotion in Hanger 7, in Austria. They had 11 amazing chefs a year visit and show them their signature dishes, that was mind blowing for those chefs in my opinion – that was the best job in the world. Can you imagine how much you could absorb in a couple of years as a commis in that restaurant!
Working from a remote island, what are the main challenges faced by culinary teams in the Maldives?
Obviously its deliveries and produce, in Dubai the main deliveries from Europe and Australia arrive twice a week, in the Maldives it's once a week, as the head chef there you really have to have your wits about you, if the bookings suddenly go up, you are going to be in trouble.
Were you able to use any locally-sourced ingredients on your menus, such as Maldivian fish or local vegetables and spices?
Sadly no. It was monsoon season and as I found out, catching fish wasn't as easy as it looked. Two hours on a boat with 16 people and the only fish caught was by my youngest Nael, not exactly a tuna! The spices were the same as we use here in the Middle East, so I still have to really research the cuisine from that part of the world.
Do you have any other collaborations in the pipeline, or plans to re-visit Coco Bodu Hithi again next year?
We have a lot of plans for the coming year, regarding the expansion of Rüya, so I'm expecting to be rather busy, but hey, Seychelles, Truk lagoon, and Philippines are always on my bucket list – a dive is a dive after all.
Located in North Malé Atoll, Coco Bodu Hithi is just 40-minutes from Malé International Airport. Expect palm-fringed beaches and crystal clear, blue open waters and lagoons scattered with tropical fish to swim with. For more information, call +960 664-1122 or visit cococollection.com.