Em Sherif Restaurant Group celebrates its coastal Mediterranean roots with its latest extension in Bahrain, Em Sherif Sea Café, which will soon launch in Abu Dhabi and Riyadh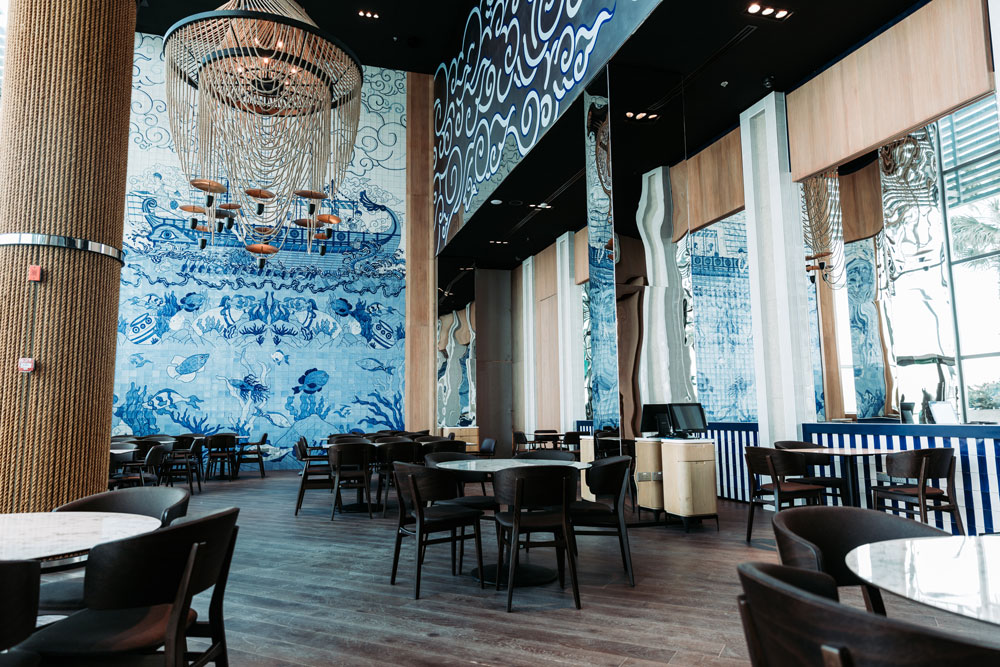 An icon of Levantine hospitality and cuisine, commended restaurateur Mireille Hayek has taken the regional culinary scene by storm with her award-winning restaurant concept Em Sherif. Em Sherif offers impeccable culinary experiences by bringing back forgotten traditional flavours of the Levant.
The concept's latest extension is Em Sherif Sea Café, a seafood setting with a beef bar corner created by Mireille as an homage to Lebanon's historic ties to the Mediterranean world.
"Em Sherif Sea Café is my love letter to Lebanon's Mediterraenan side, with fresh bright flavours and welcoming interiors filled with natural light and beautiful sea-inspired designs. The last few years have reminded us of the value of time, and being able to spend it with loved ones, so this is a space where everyone is welcome and can come together to enjoy a great meal, but also just catch up with friends over a coffee or shisha if that's what they please. From our delicious seafood dishes and traditional Lebanese mezze expertly prepared and made using only the freshest ingredients, and our attentive service, we hope to provide our loyal guests with a fantastic dining experience in beautiful surroundings," said Mireille Hayek, founder of Em Sherif.
The menu features a plethora of fresh seafood dishes including 'the catch of the day', where diners can select their seafood choice to be prepared to their liking. A selection of cold and hot mezze awaits, starring traditional flavours and contemporary dishes with a unique twist. Highlights include Raw red sea bream, Shrimp provençale and Samak rass asfour; as well as vibrant vegetarian bites such as a Whole roasted cauliflower in tahini and spicy pickled walnut dip, Hindbeh del zeit and Lentil kibbeh, perfect for a light summer meal.  For those looking for a heartier option, the restaurant also features a beef bar corner with a selection of grilled meats.
Em Sherif Sea Café is where the best of yesterday and today combine, fabulously. Crisp and contemporary, the elegant, airy café is a visual and culinary homage to Lebanon's historic ties to the Mediterranean world, both through the theme of its delicately hand-painted Portuguese azulejo wall tiles and the varied menu of main and mezze-style offerings. The sea-inspired interior is meticulously selected, exuding a vibe that resonates with the restaurant's homage to the Mediterranean world. From à la carte dining to coffee, shisha and late-night bites, Em Sherif Sea Café is as much a place to socialise, as it is to eat.
The first Em Sherif Sea Café franchise opened earlier this year at Bahrain's waterfront shopping center – The Avenues Mall. This will be followed by the opening of Em Sherif Sea Café Abu Dhabi  and Em Sherif Sea Café Riyadh later this year.
Em Sherif Sea Café Bahrain at Gate 3, The Avenues Mall Manama, Bahrain from 12pm-12am. Call +9737 710 0777 or email info@emsherifseacafe.bh. Visit the website or Instagram.