Heading the newly opened Don Alfonso restaurant located in Shangri La Hotel on Sheikh Zayed road, we chat to Head Chef Christian de Nadai about his recent arrival to Dubai and his plans to differentiate his Italian, from others.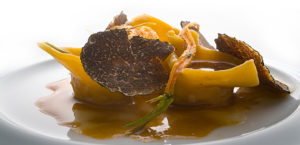 With an interest in cooking dating back to his traditional Italian upbringing, Chef Christian comes to Dubai from the two-Michelin-star restaurant Don Alfonso 1890 in Sant'Agata, Italy.
Perfecting his approach to simple, artistic and traditional-style Italian dishes, under founder and owner of the restaurant, Chef Don Alfonso, Christian reveals that guests at Don Alfonso can expect nothing less than a warm welcome, home-style cooking, in a fine-dining environment.
Following in his mentor's footsteps, Christian has high hopes of maintaining the brand's reputation for quality, serving up Mediterranean flavours straight from the family's recipe book.
Firstly, tell us about your background? What inspired you to become a chef?
Well, I am from Treviso in Italy, where my father is an ironsmith and runs a family business. Naturally when I left school, it was expected I would become part of that, however it wasn't before long when I started working with him that I knew that field was not for me. Feeling inspired by the art of mixology and the prospects of working in the culinary industry, I enrolled in the hotel and catering school called 'A. Beltrame' in Veneto, and this is where I discovered my passion for cooking.
To conclude my training at the school, I was sent to the Don Alfonso restaurant in Italy to complete one month of work experience and was integrated to the culinary team there. After two weeks, I was offered the opportunity to stay on with the company after my month of training, which I accepted and haven't looking back since. I don't know where to past ten years have gone!
You're relatively new to Dubai, what are your thoughts so far?
I moved to Dubai in November 2013 from our Marrakech restaurant, and so far think it's a great place. Despite the obvious positives such as the growing economy, this place is all about quality and consistency, which is great when it comes to the culinary industry and I'm excited to introduce Don Alfonso into this market.
Moving forward here I think my challenge is going to be bring the true authenticity of what Don Alfonso represents in Italy, which is a quality family-grown brand.
There are many Italian restaurants around, what differentiates you from the rest?
The difference between Don Alfonso and other restaurants is that it was born a family restaurant 40 years ago, everything about it has been developed around Chef Don Alfonso and his family concept. The first impression our guests should get when they enter our restaurant is that they feel welcomed and at home. We like to work with the motto 'my home is your home', as we try to make the restaurant feel as homey as possible, while still maintaining high quality, fine dining standards.
Chef Alfonso and family decided to bring the restaurant to Dubai because of its reputation for quality, and quality is what we want to deliver. All products we use are also easily accessible and can be imported here.
Tell me more about Don Alfonso and what you're trying to create here
This is the fifth Don Alfonso restaurant, the others are located in Macau and Marrakech, plus another two in Italy. Here in Dubai, like in all our restaurants we want to achieve constant delivery of quality, authentic Italian food. Our approach is to focus on guest satisfaction and to help them understand that we represent 40 years of history in our food. Many people do not know that even a simple Italian dish such as spaghetti with tomato sauce that we serve has taken a lot of research and testing to make it perfect, sourcing and using the best ingredients.
Although we are very traditional, creativity in our kitchens is also encouraged. Creativity while remembering our traditions and what we are known best for: great food and great wine, in a relaxed, homely environment. I hope to create an atmosphere that is not too formal, where our guests can feel free to make requests if they wish. At the end of the day, what is a restaurant without its guests?
Food in Italy and restaurants there is one of the main parts of our life, hospitality is a huge thing and we take pride it that. It's part of our culture. We want to keep this feel in our restaurant.
What inspires your creativity in the kitchen?
On our menu we have several signature dishes that are used in all Don Alfonso restaurants, however there is also space for me to experiment and try new things. Now in Dubai, I'm experimenting with local produce from the UAE and trying to incorporate them in the menu.
In Marrakech and Macao our chefs also do the same, where they take influences from local environments and food scenes to develop our menus and we share this throughout all of our branches. We are only five restaurants so there is a very strong family feeling across our outlets and our chefs, we all communicate about their menus so that we offer consistency.
I'm inspired by the simple things. Quality, simply Italian food is what I believe is the best, things such as high-standard olive oil and quality cheese, these things alone are simply perfect without over complicating the formula. Personally, I believe food becomes ruined when it is played around with and mixed too much. Simplicity at its best is what I want.
What is authentic Italian to you? What's the secret behind true Italian cuisine?
Authentic Italian food for me, is all about the ingredients and where they are sourced. In Italy it's easy to have an authentic meal because locally grown products are in great supply and suit our cuisine perfectly, things such as the cheese, vegetables, wine, etc. is all great. The difference is made when restaurants venture outside of Italy and how they get their ingredients. Ours for instance mainly comes from Italy, including the Don Alfonso branded olive oil, the pasta and cheese. We do also try to incorporate some of the local fresh produce, without altering the flavours.
What really infuriates me is when I visit other countries around the world and see eateries such as 'Mama Mia' or 'Pizza World', whatever they are labelled as. Many duplicated outlets that are out there are simply rip off versions of true Italian and it upsets to me to think people go to these places and accept that just by adding a little parmesan cheese or mozzarella, they think this is Italian, and it is not.
Italian food has been adopted and adapted around the world – what's the key to keeping authenticity? You must have seen some bad adaptations on your travels?
Yes, I have. But at the end of the day, these adaptations are just outlets with a name outside that is associated to Italy in some way. There are some many out there now that they have almost created another cuisine sector like 'Italian-American'. I really don't like when I get requests for dishes such a spaghetti Alfredo or something like that, because this is not what we have in Italy, this is an American adaptation. It should be made with Fettuccine, but people are so accustomed to seeing the wrong dishes around they come to believe it is authentic.
It's hard to see people getting the wrong impression of your country's cuisine, but this isn't the fault of the pubic, it's the fault of restaurant owners who are establishing these fake Italians.
What do you think of Italian cuisine in Dubai, any favourites?
Well, I've not been here long enough to try too many of them, but I've visited Roberto's and that was a very nice experience, I really appreciated the food served there. When I'm off and relaxing, to be honest I'm a very big pizza lover and can't go a week without it, so I'm slowly but surely working my way through all of the pizza outlets here in search of a winner.
Is Italian cuisine evolving? What does the future hold?
Over the last 20 years Italian cuisine has really evolved and changed because it's gained a lot of exposure. Will it evolve further, I believe so. However, it's important that we remain traditional too. We have signature dishes that the world knows us for, and if it's liked, why change it? There is room for improvements in some areas, which for a chef is great for experimentation.
We are surrounded by a lot of great Italian's here in Dubai such as Roberto's, Bice, Alta Badia, and I hope we can all learn from each other and represent our cuisine proudly here in Dubai.
Is there a chef you look up to?
I honestly have to say Don Alfonso, he has influenced my career completely from the beginning. My first encounter with him was in the kitchen just as I came out of culinary school and trained under me. He has changed my life, not only job-wise but also personally and the attitude I have about life.
Don Alfonso has always been supportive and I've never felt alone during my career with him. We are not born to work, we are born to live and to have both things together is a blessing, once you live to work, your life will reflect badly because of this. But Don Alfonso is always uplifting, there is always colour in the kitchen and a lot of moral support.
He's a great motivator. I remember actually during one of my first days with Don Alfonso, before I had met him, I was in the kitchen plating a dessert as I saw him enter. Under pressure and nervous, my hands got very shaky and the ice cream just plopped onto the plate and looked terrible. I was completely embarresed, but he just smiled and said "not to worry, I'm sure the next one will be better." He has a very calming personality and he helps you learn in a very calming manner. Directive but in a very soft way.
Any advice you would give to someone wanting to become a chef?  
It's all about the passion. Being in the kitchen it's a very strong environment and it can test a person sometimes, serving people is a difficult thing because they always want to be served correctly, so you're always facing expectation. There will be times where you're unable to satisfy everyone, and it will be the passion that gets you through moments like these. Allow people to influence you, have an open mind and be influenced by things going on around.
Any further expansion plans for Don Alfonso?
All of our attention at the moment is focused on Don Alfonso Dubai. For all the family to move here it was a big opportunity for our restaurant to grow and develop as a brand. Who knows what the future will bring, but I'm sure it will be big things for our family kitchen.