Proudly standing as the second largest country in the world, it's no secret that with Canada's mix of ethnic backgrounds, restaurant-heavy culinary industry and vast landscape, it can be quite challenging to pin-point what exactly Canadian cuisine is all about. With a heavy focus on dairy products and processed grain, certain cooked vegetables and farm-grown beef and chicken tending to dominate a meal, we wonder what popularity the nation has developed in the ever-expanding F&B industry of the Middle East. Talking to Canadian professionals, we learn there is quite a selection of products being used in this region.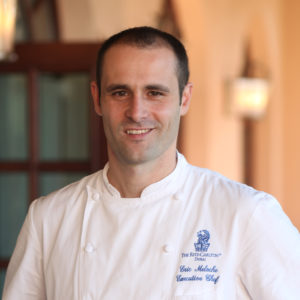 THE CANADIAN CHEF
We ask Canadian Executive Chef at The Ritz-Carlton Dubai, Eric Meloche, for his view on the Canadian market in the Middle East.
How much demand do you believe there is in the Middle East, for Canadian produce?
Well, from what I've seen in the market the three main products being used here in the UAE are Canadian maple syrup, east coast lobster and Canadian beef.
Is there anything specific that you think is most in demand here, from Canada?
I'd say there is definitely a high demand for Canadian maple syrup in the Middle East. If you look at it even on a global scale this product is really high up there in terms of quality. Here at the hotel we are just changing our syrups over to a beautiful maple syrup from Quebec, because I find many of the market alternatives here are actually corn syrup-based, rather than maple. In terms of products in demand, I would say the above mentioned are most popular.  Alberta beef is a fantastic product although it has not gained a lot of popularity in the market, although the veal from Quebec is a premium product that is appearing on menus more often now.
Which Canadian product holds the most potential in this market?
Montreal smoked meat is a great product – it's a type of deli meat that's made by curing beef brisket with spices and it makes a really good sandwich. Our smoked fish is also fantastic. We use Canadian smoked salmon in some of our food outlets.
Do you insist on using any Canadian produce within your kitchen?
I would not say I insist on using Canadian product, however, if I have two premium products to choose from and one is Canadian, my patriotism may come through. In terms of Canadian product in the hotel, we work closely with a fellow Canadian by the name of Bahir Keldany who owns Al Fumo, an artisan smokehouse who supplies us with Montreal smoked meat that we feature in two of our restaurants. Bahir also produces amazing smoked fish and applies the techniques he learned from the Mi'kmaq tribe on the East Coast of Canada.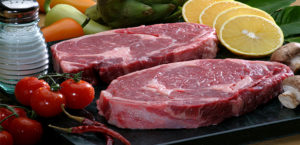 THE CANADIAN SUPPLIERS
Catering to the Middle East region, F&B suppliers Robert Serapiglia, director, market development and innovations at Canada Beef and Babak Alikaram, export manager of Gize Canadian Mineral Water, share their opinions.
What are the current market trends you're observing?
Robert Serapiglia: Demand trends in various markets in the Middle East vary from country to country. With the growth of the expatriate workforce, the rise in nationals from the Middle East being educated in the west, the expansion in tourism, hosting of global events and a rapidly growing population, the demand for grain finished, well-marbled Canadian beef and milk-fed, grain finished veal for the premium sector is on the rise. Middle meats from the rib and loin primal areas are always in high demand in the premium market sector. As Canadian beef gains in popularity, we have seen an increase in the variety of cuts that are being utilised in the Middle East, to enhance menus. Also, non-traditional cutting strategies are being used to satisfy the medallion concept that consumers prefer. In markets like Saudi Arabia, where beef from the USA is banned, the timing is ideal to develop Canadian branded programmes that offer premium grain finished, well-marbled, tender and juicy beef products.
What products are most in demand from the Canadian market?
Serapiglia: Canada consumes approximately half of the beef it produces which leaves that other half available for export market opportunities. Since there are limitations on volumes, Canada Beef focuses its market development activities to premium markets on the global scale. In the Middle East the products in most demand come from the loin, rib and hip sections of the animal. In 2013 tenderloin saw an increase of 7%, insides increased 23%, rib-eye rose 12% and striploin down slightly to 10%. Total grain fed beef rose to 40% dominated at retail by insides, followed by peeled knuckles.
Babak Alikaram: We are delighted by the feedback we are receiving in the Middle East as luxury is booming and coming from this region in particular. Gize epitomises luxury and purity – two things which are valued in the Middle East. It is our goal to establish Gize as a non-alcoholic counterpart to beverages such as champagne, fine wines etc. That is why we not only offer Gize in its classic form with and without carbonation, but also in three flavours. Gize is the ideal product for all places that are exclusive such as hotels, resorts, restaurants, clubs, bars or lounges, not to mention first class caterers, again all of which are high in supply in this region. We also meet high demand in the private sector, especially for weddings.
How does the market differ in the Middle East to Canada?
Serapiglia: Halal ritual harvest is mandatory for countries in the Middle East, which comes at a higher cost.  Domestic markets have limited share of wallet in these categories where export markets are willing to pay a premium for grain finished, well-marbled beef.
What are your future expectations for the Canadian market in this region?
Serapiglia: Specific niche regions within MENA, like Saudi Arabia and UAE, will drive the demand for premium beef and veal products to sustain the growing wealthy population, both indigenous and expatriate, as well as supplying the premium demands of the tourism industries. As the demand for halal products continues to grow along with the population and the economy, Canada is in a strong position to satisfy niche demands from the premium retail, food service and quick service restaurant sectors.
Alikaram: Canadian products enjoy a high status in the Middle East. So we are expecting to receive further interesting business opportunities. The source in spa springs boasts a very long tradition. It is one of the oldest sources in North America and was revered by the Mi'kmaq people as a fountain of youth. Gize is a top-tier water and is the only mineral water in the world that is refined using a special gold-filtering process, which we believe there is a growing market for in the Middle East.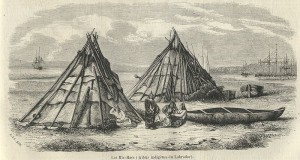 Produce a-plenty
Canada has been viewed for a long time as a commodity supplying country – wheat, barley, oil seeds and pulses) – there is more and more interest and knowledge about Canadian quality value added products such as snack bars, cereals, processed meat, maple syrup, high end bottled water, jams and jellies.
Canada offers high end meat, beef and lamb that are much in demand with many chefs in the UAE are using Canadian meat in their menus. Demand is increasing. Canada also is a supplier of high quality seafood like scallops, salmon, mussels, crabs and sable fish.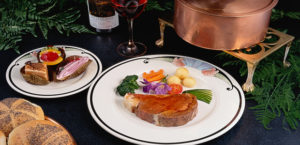 On the lookout for things uniquely Canadian?
Poutine: French fries smothered with gravy and lumps and white cheese curd – not the healthiest of dishes, but delicious!
Butter tart: A flaky pastry shell filled with a rich, sugary mixture of buttery baked cream and raisins.
Beaver tail: Don't worry, it contains no actual beaver. Instead, a hearty chunk of deep-fried dough, usually covered in sugar and cinnamon.
All things maple: The edible national symbol of Canada. The country is home to all sorts of maple-flavoured cookies, sweats and desserts.
Rye bread: Rye is a grain that tends to grow well in cold temperatures, making it a natural Canadian crop. "Canadian-style" rye bread tends to be fairly light and fluffy.
Montreal smoked beef sandwich: Thick, peppery slices of spiced beef cold cuts served on equally thick rye bread.
Tourtiere: A savoury pie made with ground beef and spices.
Game meat: Abundant in Canada, game meat such as reindeer, boar, venison, caribou and rabbit, can be found in butchers, restaurants and homes across Canada.