Breaking boundaries for the Middle East's food scene, Colin Clague is the executive chef of the homegrown Turkish restaurant Rüya Dubai. He recently launched Rüya London, the restaurant's second outlet, in the British capital. This month, the award-winning chef talks to Sophie Voelzing about what takes to go international.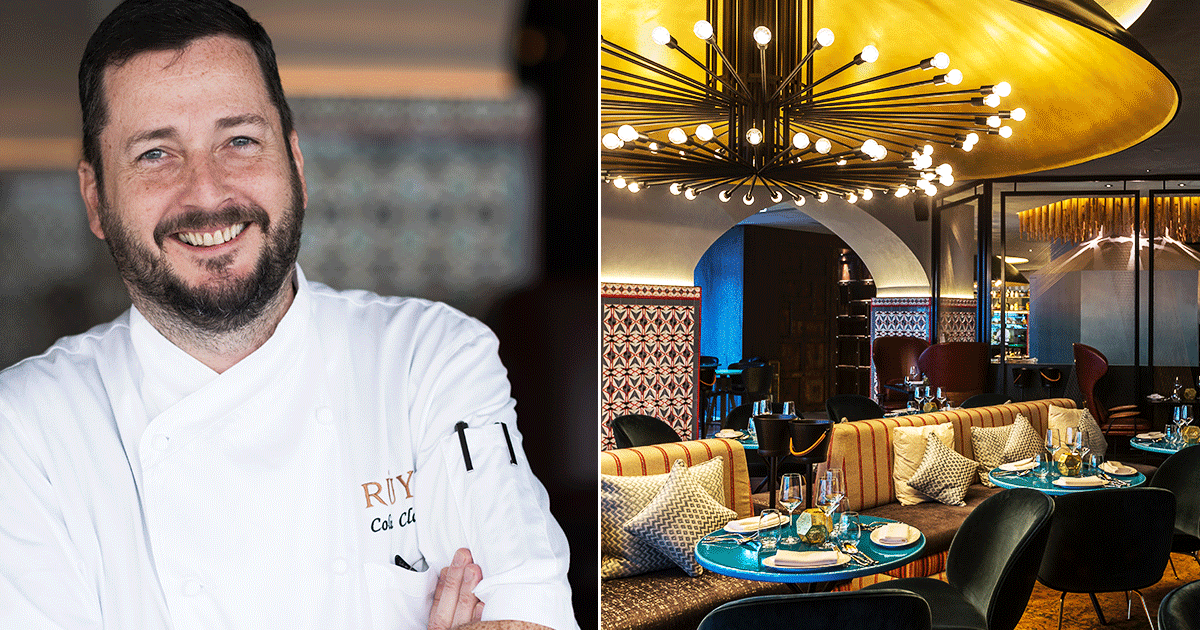 Yearly, the UAE welcomes countless big, international restaurant brands to its inventory, with only a small number of homegrown concepts breaking through onto the market. Rüya, is one of those few Dubai-born restaurants, which since opening in 2016, has gone from strength to strength, becoming a firm favourite for local and visiting diners.
While Dubai is accustomed to a high turnover of imported restaurants, it's not so used to exporting – and chef Colin Clague is paving the way for change, with his debut of Rüya in London this spring.
Managed by the d.ream Group, Rüya London is located within Grosvenor House Hotel on Park Lane, and represents the next step in accomplishing the brand's global mission to elevate Anatolian cuisine to an international level.
Rüya, meaning dream in Turkish, is the realisation of Turkish restaurateur and entrepreneur Umut Özkanca's long vision to redefine the conventional perception of Turkish food. Since childhood, it has been his wish to polish Anatolian cuisine to be on a par with French, Japanese and Italian, whilst retaining its original identity. Rüya's quest to preserve the true DNA of Anatolian food is reflected in each dish, which are prepared according to ancient recipes but presented with a fresh contemporary twist.
Talking about the expansion, chef Colin tells us more…
How does Rüya London compare to the Dubai-based original?
The concept will remain mostly identical; the design, for example, is done by the same architects, Conran and Partners, who designed the venue here in Dubai. The menu and service will also be the same. We will add some new dishes to the London menu though, as we will be able to source a much larger selection of Turkish items. As you can imagine, it is lot easier to sell sardines in London than it is in Dubai.
You must be so proud to be taking a Dubai-born concept to London – representing a first for Dubai! What advice would you offer to chefs hoping to achieve the same?
There were few times where I have come close to export a Dubai concept to Europe. Taking a UAE-based concept abroad is truly something unique. Usually big, established brands would enter the UAE market relying on their strong reputation, whereas we have reversed that trend with this move. Rüya Dubai is a UAE homegrown brand which is set to bring Anatolian cuisine onto an internationally recognised level. To expand a brand globally, you need strong partners who are more like a family; you all share and believe in the same dream and you have to be prepared, along with your families, to give everything necessary and go for the extra mile. It never gets any easier.
Before opening Rüya in Dubai, what made you choose Turkish cuisine? Is it a cuisine you'd worked a lot with in the past?
As I said, I love history and I was lucky enough to open Qbara in Dubai, which was groundbreaking at the time being a modern Middle Eastern restaurant. Travelling around and creating dishes from the past and interpreting them in a contemporary way was amazing. When I met my current partners, the Özkanca family from Turkey, they said Qbara was exactly like what they wanted to do with Anatolian cuisine and it started from there.
What would you say your signature dish is at Rüya?
There are so many! Everybody seems to have a favourite, but the three biggest sellers are the 'two cheese pide', 'lamb manti' and 'keskek' – a barley risotto with slow cooked lamb shoulder. There is also the 'cağ kebab', a delectable meat skewer, which flies out the door.
For suppliers reading, what products would you like to see more availability of in Dubai?
I would like to go back to where we were. The latest municipality rules have made it extremely hard to get the more bespoke items from smaller farms. If the restrictions don't deregulate, we will all be using the same large brands, which is not healthy for the market.
For chefs reading who would like to join Rüya's brigade – what four main qualities do you look for in a chef when hiring?
The main criteria I look for are a thirst for knowledge, hardworking and an ability to get along with anybody and everybody. A serious love and appreciation of food from all around the world, there's no point wearing blinkers!
Were you always passionate about food growing up? What took you down the culinary route?
I had two passions growing up, archaeology and cooking. Unfortunately, nobody told me that you had to be a genius to become an archaeologist; which left cooking as the only option. My mother is a qualified chef, which paved the way for my prospective career. At first, I applied to be a chef in the Royal Navy but failed the medical as I was too skinny – believe it or not – hence it was the Isle of Man College before I headed to London.
During your years in the kitchen so far, in which ways have you found most beneficial to improving your skills as a chef?
Travelling is extremely important as it broadens the mind and opens the eyes. Humour is also crucial; it's a really hard job and you have to be able to laugh with your colleagues. Having a supportive family is another element; a family that puts up with the long hours is a must.
Which restaurants are top on your list, when dining out in Dubai?
There is a handful of restaurants: 3 Fils, Zuma, La Petite Maison, Bleu Blanc, Folly by Nick & Scott, and Tomo.
Exciting London opening aside, can we expect to see any further openings or happenings from Rüya any time in the near (ish) future?
It all depends on London, if we can launch successfully in London, then the d.ream group will roll it out on a larger, global scale. The d.ream group is very excited about the Rüya expansion plans and obviously being Turkish, Mr. Ferhit Sahenk, Umut and his Father Rasim Özcanka want to showcase Anatolian cuisine beyond the döner kebab and hideous garlic mayo.
Details: for more information, visit Ruya Dubai and Ruya London. If you enjoyed this article you may like this story taking a look inside Heston Bluemental's new Dubai restaurant.