In an exclusive interview with The Pro Chef Middle East, James Keating shares his insights on Scotland's significant accomplishments in the Middle East
Scottish produce continues to be widely acclaimed in the culinary scene for its award-winning meat, seafood, and plenty more. Since 2007, Scotland's food exports increased by a staggering 111% to almost £1.5 billion, with salmon and seafood being its most prized assets. To further boost its presence across the globe, organisations such as Scottish Development International (SDI), Scotland's international trade and investment agency, aim to support companies and producers to grow internationally in public and private sectors with special opportunities in premium retail and food-space markets.
Here, James Keating, Regional Director of Europe and Middle East – Consumer Industries Division, speaks about Scottish Development International (SDI), its key markets in the Middle East, and 2030 goals for Scotland Food and Drink.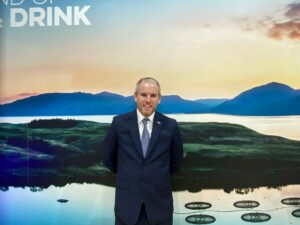 Why is Scotland a leading destination for F&B trade?
It's down to a number of reasons but primarily, it's our people and heritage. A lot of our companies are family-owned and have been around for generations. They take real care in what they're creating, which is usually premium projects. Secondly, it's our landscape. We've got a fantastic place to grow and produce food and drink, especially in our seafood sector because of our waters. For example, it allows our shellfish to mature slower and more naturally so it gives a sweet, intense flavour. With our farmed salmon, the Omega-3 content is higher than in other farmed salmon-producing countries. We're really blessed with a strong brand identity that many other countries don't possess.
Tell us why UAE is one of SDI's key markets for international expansion.
Firstly, if we look at Gulfood, we've come here for 10 years and that's because there's a captive audience in the region. The reason why seafood does well is that supply and demand needs are not being satisfied so there's always going to be a need for experts. We care so much about this market. We see this market as a project. What really encourages us is if you look at what economic development agencies do, we search for and secure opportunities. In the UAE, we've noticed that people are coming up to us. We're not going out.
Which other country in the Middle East do you consider an important market?
Saudi is a huge market and I believe that market is due to be growing exponentially in the coming years. A lot of people see the UAE as a gateway into Saudi and we're soon going to be going over to Saudi in the future to further build our impressive network. We've got a great connection with GlobalScot and we really encourage our businesses to utilize that network.
How does SDI support Scottish businesses in the Middle East?
We support the companies coming here in three different ways. It starts with market intelligence so we look for gaps in the market. Where do they fit in? How should they pitch themselves when they speak to buyers? The second is through connections and then finding platforms or opportunities to promote the businesses. We're really lucky in the sense that partnerships in the food and drink sector are key. We work hand in hand with industry and the Trade Association so whether that's with the buyers or the suppliers, we've got a full collection of stakeholders internationally.
Essentially, the bottom line of our job is to help companies start exports or increase their exports to the UAE and the wider Middle East, raise awareness of what we do, support them with knowledge on how to increase sales, and understand their market.
Could you tell us how Scotland incorporates sustainability into its food and drink?
I think we're quite lucky with this beautiful natural landscape we've got and the environment that we've got that really engenders itself to food and drink production. Furthermore, Scotland was the first country to declare a climate emergency. Most countries' targets are net zero emissions by 2050, our targets aim for net zero emissions by 2045. Our family-owned businesses in Scotland have been around for generations to ensure sustainability and are looking to be more sustainable for generations to come, which is impressive on its own.
What are SDI's 2030 goals?
Mainly, to increase exports and visibility of what we do. We've kicked off 2023 with Gulfood and we're following it up with an Iftar, to showcase our premium Scottish products. We'll be further looking into our preparations for COP28 with a sustainable food and drink event to welcome guests from all around the world.
Visit website.