The homegrown brand, Hayatna, has previously earned multiple accolades for its creative innovation and wellness-focused products in the region.
Hayatna won the renowned Most Innovative F&B Product' award at the Abu Dhabi International Food Exhibition (ADIFE) for its Ethnic range of Lassi, Rose Lassi, Chaas and Masala Chaas. The ADIFE saw local and international participation of over 445 specialized companies from 41 countries, which included 20 national pavilions.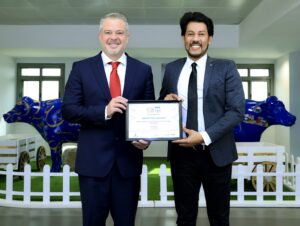 "It is a great honour to be bestowed with this prestigious award. The motivation behind coming up with this range was to simply provide a genuine experience of global taste, through locally sourced fresh ingredients," said Wasfi Kaso, CEO at EFI. "EFI has always been committed to providing consumers with the freshest and highest quality products, and now, with Hayatna, the most innovative as well."
Hayatna was earlier awarded at the Dubai International Taste Award 2022 in the packaging category and mentioned in the 'Superbrands 2022 edition.' The brand offers more than 150 products in 20+ categories featuring fresh juice, milk, laban, yoghurt, cheese, and more.
"UAE is home to a diverse population of residents with varied tastes in global cuisine," said Mohsin Abrar, Marketing Director at EFI on the Ethnic range. "Hence, we decided to focus on the requirements of the ethnic consumer base and came out with a wide array of products that hit the right notes of nostalgia and provide a familiar, homely feeling to our consumers. We want to give the residents of the country a chance to explore internationally-loved delicacies, right at a store near them."