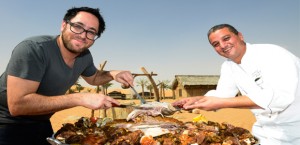 Gourmet Abu Dhabi hosts many exceptional chefs every year, but one of the more interesting ones almost slipped under the radar: Chef Christopher Kostow from the three-star The Restaurant at Meadowood. The contrast between Napa Valley and the deserts of Abu Dhabi could hardly have been more extreme for him.
Awarded 'Best Chef: West' by the James Beard Foundation, Chef Christopher Kostow stepped out of his comfort zone on a journey to the isolated Arabian Nights Village deep in the Al Khatem desert. He was a guest of Chef Saeed Fawaz, who has been honoured by the Emirates Culinary Guild for his authentic representation of Arabian cuisine and who has cooked for many a ruling family's wedding.
On the special menu of the village's Al Maqtam restaurant, was roasted camel – a treat traditionally reserved by Arabs and Emiratis for special celebrations, particularly weddings. It was first scrubbed with salt and vinegar before marinating for 24 hours in an aromatic paste of local spices, including garlic, ginger, green chilli, turmeric powder, cardamom, coriander, white pepper, fresh tomatoes, tomato paste and corn oil. Next, it was next steamed in a stock of bay leaves, cinnamon powder, coriander, cloves, cardamom, onion, celery, black pepper and corn oil in an oversize, deep lidded pot, in which the camel was placed on a steam tray ten centimetres off the pot's bottom and covered with date palm leaves. After four hours of steaming over gas fire, hot charcoal was spread on top of the metal lid to roast the meat for an hour.
The final dish Hwar ma'a machboos was served up on a giant dish as the centrepiece of an Arabian feast. "The camel meat was absolutely delicious, like roasted lamb but less gamey with a soft texture and unctuous fat. We all really enjoyed it," Chef Kostow said of his first taste of Emirati food. "It's always very cool to learn traditional cooking techniques as they have a lot of relevance to modern cooking. There's nothing new as such, but it's interesting to have an understanding of what was done in previous years. I also think it's imperative to use cooking as a window onto a given culture, so it is very interesting to learn how traditionally these things were prepared. I found it particularly interesting the amount of techniques actually employed in the preparation of this dish: there's steaming, there's roasting and smoking. You would assume that it's a very rustic cooking process and there are elements of rusticity, but really there's a lot of technique going on and that's pretty cool."