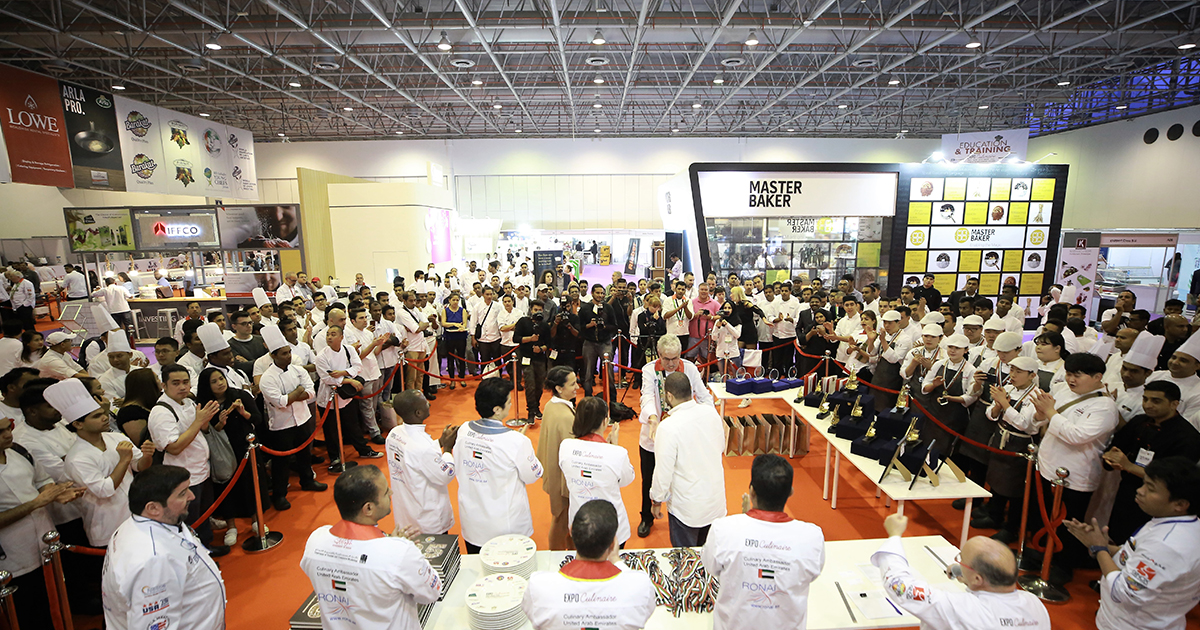 The world's largest annual single-entry chef competition, the 23nd Emirates International Salon Culinaire, will return from 3rd-5th March at Expo Centre Sharjah as part of the second annual ExpoCulinare event.
The annual gathering, endorsed by Worldchefs, has 30 different categories (increased from 29 last year) which are judged and awarded according to the global standards of experienced master chefs. Competitors are awarded with Gold, Silver or Bronze accreditation after detailed judging and feedback.
Fresh off the plane from Stuttgart Germany, Chef Uwe Micheel, President of Emirates Culinary Guild, Assistant Vice President of Worldchefs and Director of Kitchens at Radisson Blu Hotel Dubai Deira Creek has just returned from the Culinary Olympics where the UAE Team impressively won 21 Gold, 16 Silver, 8 Bronze medals and 1 Diploma.
"The UAE has shown that our talents can challenge the best in the culinary world. The Olympics runs every 4 years, and this was the 100th anniversary of this incredible gathering. To lead such a young team and be rewarded with so much recognition from the international culinary community, is very rewarding personally and professionally, I have dreamed of this moment for many years as President of the Guild for the past 20 years. It was with pride to fly the UAE flag high," said Chef Uwe. "Now we turn to ensuring that global benchmarks continue to be passed on to our own Emirates International Salon Culinaire competitors in ExpoCulinaire 2020. This helps to underpin the strength and variety of talent in the UAE HoReCa and Hospitality sectors" he continued.
"Sharjah continues to support the HoReCa sector and this year we welcome a pavilion powered by the SSCI. The Chamber and Expo Centre Sharjah clearly want to see businesses grow and these active steps mean that Sharjah based companies will be sure to benefit directly" commented Joanne Cook, CEO of Purple Kitchen Events and Organiser of ExpoCulinare. "All things kitchen – competition, art, education, demonstrations, products and services under one roof is the combination our attendees want to experience. ExpoCulinaire is already proving itself as the first choice for companies who want to meet their end users" she added.
Education and Training will also expand at this year's event, reflecting the country's commitment to creating and developing the field of gastronomy. Free certificated Training and Education sessions will run again with even more classes on offer than 2019, plus the expansion to five official education partners (Chef International Centre, Dubai College of Tourism, Emirates Academy of Hospitality Management, International Centre for Culinary Arts and Richemont Masterbaker) will be accompanied by three other culinary schools so that a wide range of available courses can be explored by visitors.
Another new development is the Philippines pavilion organiser Filfood will be bringing their specialised event alongside ExpoCulinaire. The third Annual Filipino Food Industry Conference will focus on the theme "Grow Exponentially" in the run up to the Dubai Expo 2020, and aims to attract F&B operators and restaurant owners as they explore the exciting opportunities presented by the Greatest Show on Earth this October.
In addition, hygiene partner and advisor to several government health departments around the world – Ecolab – will be present to join a panel conference to discuss Hospitality Hygiene Protocols during a Health Crisis. The discussion will focus on safety with continuity for guests and businesses in the hospitality sector during virus outbreaks (using Covid-19 as a case study) on Wednesday 4th March. This will be a senior level gathering with expert presentations, panel sessions and a Q&A.
To learn more about ExpoCulinaire, visit the website.