We sat down with Nael Islam, Regional Group Director, Middle East & North Africa, Enterprise Singapore at Gulfood earlier this week, to discuss the Singaporean companies utilitising the latest innovations and technologies to enhance productivity in the food manufacturing space, while creating healthier, long life products for consumers.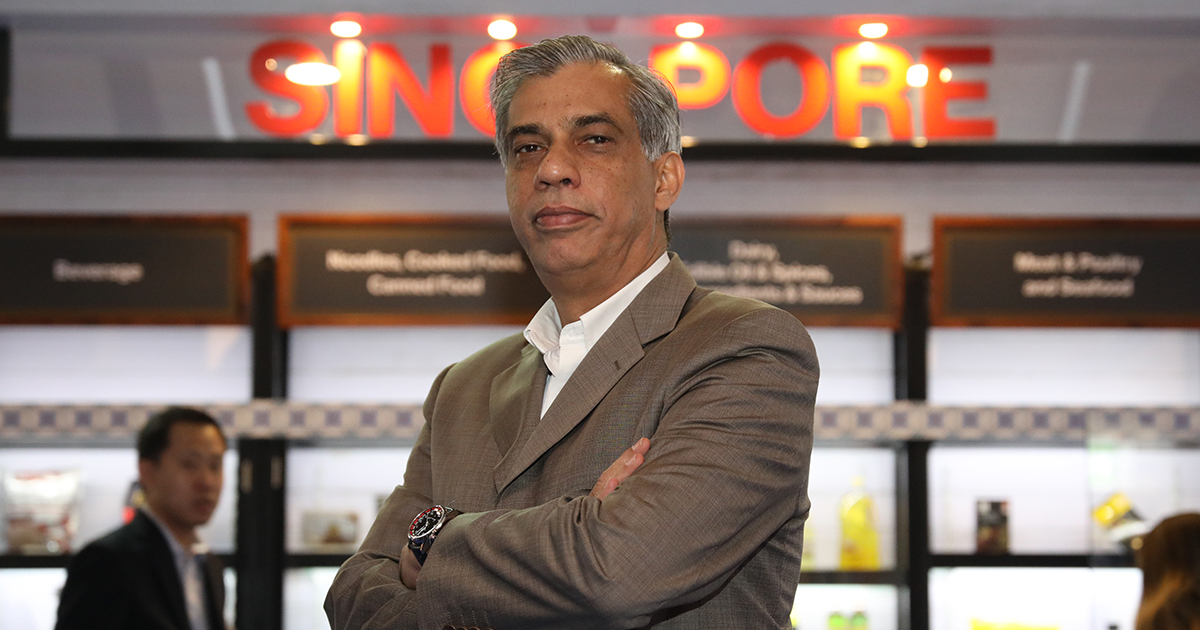 Tell us a bit more about Enterprise Singapore and its presence here in the Middle East.
Enterprise Singapore is a government agency that champions trade enterprises with a committed Singapore base. A major aspect of what we do strive for is the globalization of Singaporean companies; the island has a population of approximately 7 million people, so it's essential that companies have the opportunities to expand beyond the realms of the island if they are the thrive. Our focus here is everything MENA related – from Iran to Morocco, and Jordan to Egypt. We have a "supercenter" office here in Dubai, as well as a presence in Riyadh, Saudi Arabia.
What exciting new concepts is Enterprise Singapore showcasing at Gulfood this year?
This is our tenth year exhibiting as a Singapore pavilion at Gulfood. It is a critical platform for us in terms of getting exposure for our products, as it is for everyone. This year, our focus is on innovation; we're seeing efforts from Singapore food manufacturers to become more efficient in production methods, as well as adopting the latest food technologies in the way we produce food to benefit the consumer.
Are there any onsite examples that you can highlight that are applying innovative technology in practice today?
Mr Popiah is a great example; these ready-to-go wraps are available through vending machines to the public. In Singapore, this concept of "vending cafés" is very popular, with approximately 50 cafes in operation today. Through innovative methods such as HPP (high pressure processing) or pasteurization, the shelf life of these products can be extended while still maintaining the same taste and quality of produce. In Singapore, these vending machines are also found in schools, hospitals and offices, and they could be particularly useful in this part of the world in worker dormitories, as it's fresh food that is both inexpensive and healthy!
Rice- and wheat-based noodle manufacturers, Tan Seng Kee, adopted the pasteurization method typically used in the treatment of dairy and beverage products to develop preservative-free noodles that can stay fresh for up to six months in chilled storage. Pasteurization also enhances the texture and taste of the noodles and eliminates pathogenic micro-organisms, thereby increasing the safety of their food products.
Similarly, Nature's Nest Seago is a ready-to-eat, plant-based seafood alternative. It is an excellent source of protein, while providing a solution to today's challenges of overfishing and, on a more micro level, enable those allergic to crustaceans to enjoy seafood.
How has Enterprise Singapore's presence at Gulfood evolved over the years?
We've been oversubscribed every year for Gulfood, in terms of the number of companies we're representing. We had 25 participating companies exhibiting at Singapore's first pavilion concept in 2010; this year, Enterprise Singapore is leading a 46-company delegation – almost double the number of 2010's edition. In the earlier years, Singapore companies were mainly focused on commodity-based products, such as dairy, sauce, oil and chocolates. Recently, the focus has shifted to accommodate the breadth of product demand in the Middle East, including ready-to-eat meals, pastries, snacks, beverages and even seafood.
Can you highlight the main concepts of the FoodInnovate campaign?
Our FoodInnovate campaign is a multi-agency effort that looks at providing four main pillars to SMEs in Singapore; providing infrastructure for SMEs to move into the innovation space, driving co-innovation, building a knowledge base to promote knowhow transfers from MNCs and research institutes to SMEs, and finally, to cultivate disruptive technologies to develop an ecosystem to attract food tech startups with innovative products and technologies. In a nutshell, FoodInnovate is a deliberate, concerted effort by both public and private sector stakeholders that supports food manufacturers with the resources and knowledge to develop new ideas, products and processes.
Looking ahead in 2019 and beyond, what can we expect from Enterprise Singapore in this region moving forward?
Leveraging off Gulfood to make sure that our reach is far wider than it has been in previous years, our concentration will shift towards expanding our presence across the GCC region. We've been working on this since 2016, but we now need to focus on taking our products to these markets in the coming 12 months.