Take a look at all the fun we had at this pizza challenge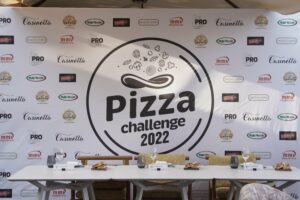 The celebrated Casinetto x The Pro Chef ME's Top Pizza Chef Challenge saw 11 of the region's talented pizza chefs compete at an exciting live culinary battle at Venus Ristorante, Caesars Palace Dubai. The talented pizza chefs of all levels created two unique pizzas with ingredients provided by Casinetto. Each chef was given ingredients to prepare the dough 48 hours in advance and had 10 minutes to produce a classic Margherita and a chef's choice Gourmet pizza, using a range of Caputo flours alongside pizza staples such as cheese from Valle Verde, Sardinian tomatoes from Casar and truffles from San Pietro a Pettine, amongst other ingredients.
The pizzas were served to a judging panel of industry experts, including award-winning Neapolitan pizza maker, Davide Civitiello, acclaimed Chef Saverio Sbaragli from Muntaha, Burj Al Arab and Chef Simone Fortunato from L'antica Pizzeria da Michele, City walk, Dubai. The competition was a tasting wherein the judges scored points for each pizza out of 10, across criteria such as presentation, creativity, use of ingredients, technique, crust and taste.
After a remarkable competition where each chef gave their best, Chef Ankit Pathak, was named Casinetto x The Pro Chef ME's winner for Traditional Margherita, winning a dream holiday to Naples, as well as a visit to the Caputo factory. Chef Mario D'Agostini from Motorino, JA Ocean View hotel was named Casinetto x The Pro Chef ME's winner for Gourmet pizza. Chef Fabio Barca of The Bay, Mandarin Oriental Jumeira, Dubai, was awarded the runner-up certificate for the Traditional Margherita pizza while Chef Ruggiero Gissi of La Strega, Le Royal Meridien Beach Resort & Spa, was awarded the runner-up certificate for the Gourmet pizza.
Take a look at the action behind the scenes!