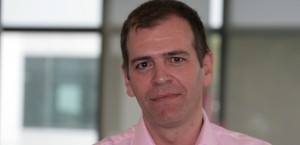 "We're not going to produce new flavours of evian or anything like that so our options lie around the areas of packaging and form factor. The new design for evian is an example of this innovation."
Bottled since 1826, evian is the world's leading brand of premium natural mineral water, with every drop of it taking more than 15 years to filter through mineral rich glacial sands in the French Alps. It is a brand of Danone. Elio Pacheco, GM of Evian Volvic Export brings us up to date.
Elio Pacheco has more than two decades of experience in the food service sector, serving for the last five years with evian Volvic Export as its GM covering almost 120 countries including Europe, Africa, the Americas and French overseas territories. The company's strategy is to appoint one master distributor in each territory in order to focus on what Pacheco calls the 'personality' of the individual brands. On a brief visit to Dubai he discussed strategy.
What is the longterm strategy for premium waters?
Well, the reality is , of course, that supply will gradually reduce even as demand increases. Do we have more than a decade left? One response, of course, is to expand our offerings – so, for example, when we saw the demand for a sparkling companion to evian, then we were able to offer Badoit. However, when I was responsible for bringing the brand to the US we faced a real issue of export through a lack of capacity. Yes, we can add boreholes but the value of our brands relies on the quality and composition of our waters – we cannot compromise on that.
Badoit has done well internationally?
Yes, we've launched into more than 100 countries and expect to achieve 150 in time. Many people realise that it is the best complement for food because its carbonation does not compete with the taste buds.
If supply is a problem, then couldn't you have created a sparkling form of evian?
Because, as a company, we would never tamper with a natural product. So, for example, you'll never see a flavoured evian. Yes, we could make evian more popular but we are firmly plced in the premium sector. In this market, each player puts their reason for the brand in front of consumers and each water, in some sense, has some special benefit. In any case, we are not at full capacity.
What are the challenges of selling premium water?
Let's look at our entry into the US market. Firstly, we had to find the right bottling partner and went with Coca-Cola who were able to cope with 12,000 in nine months. But the real problem we faced? Consumers who'd ask 'Why should I buy bottled water? We already have Coke…'
Is that generally a probloem for the industry, in terms of the claims that some suppliers make for their products?
I think so in some territories, although things are very regulated in Europe. Certainly with our brands, we're very true to their origins and we don't filter or over claim on benefits. With evian, for example, we are highly committed to and engaged with the the community around the source and we make strenuous efforts to protect it and the quality of our water. So local farmers use no pesticides or chemicals.
Doesn't that hurt them financially?
We provide suitable financial support for them. At our bottling plants, we pick 1,000 bottles at random every day for testing – for us, it's all about quality.
What would you say to someone who points out that, at the end of the day, it's all just drinking water?
Yes, it is but it's drinking water of the highest level of quality where the consumer can be absiolutely clear about its origin and its lack of processing. Companies should be the protectors of their natural qualities and, in this sector, very few premium waters actually come from a single source. We work by one simple belief: don't take more than nature puts back.
Is there a sustainability story here?
We have been reducing the carbon footprint of our evian operation for many years – we do not greenwash, we deliver. So, for example, half of of production leaves the factory by rail – we're the largest such operation in this market sector.
How does distribution divide up?
It varies between the brands. Badoit is quite new to exports so the figures are nothing like that but we believe we have the opportunity to become the number one premium sparkling water in the world.
How do you innovate in this market?
Well, as I've said, we're not going to produce new flavours of evian or anything like that so our options lie around the areas of packaging and form factor. The new design for evian is an example of this innovation, holding true to the traditional product but emphasising key values like purity and origin. Yes, at times finding the differentiation between competing brabnds can be a challenge – why me? But premium water is an affordable luxury and one of the few items in the world that you can drink all day with no effect.
What excites you still about this market?
It's an amazing sector to work in with unlimited potential – we did double digit growth last year. In the UAE, evian is now the number five brand by volume and we believe we can improve on that even though most other brands are priced more cheaply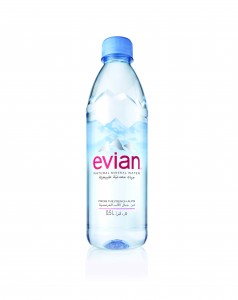 The new look
evian has premiered its newly-designed bottle in the UAE, adopting a symphony between substance and form. Sleeker and with cleaner lines, the new bottle leans on transparency to celebrate its contents with a label-less look.
"We're very excited. Our new bottle allows evian's honest and natural personality to make a new connection with consumers. evian has been the icon of the category globally for three decades. We wanted to remake the brand so consumers would be reminded of the water's purity and freshness," said Renaud Marchand, Middle East Zone director for evian, Volvic Export of Danone.
The new bottle design is available now in the 500ml and 330ml sizes for hotels, restaurants and cafes, with other formats set to debut in the following months.