The luxurious five-star beach resort has strengthened their culinary team with numerous new appointments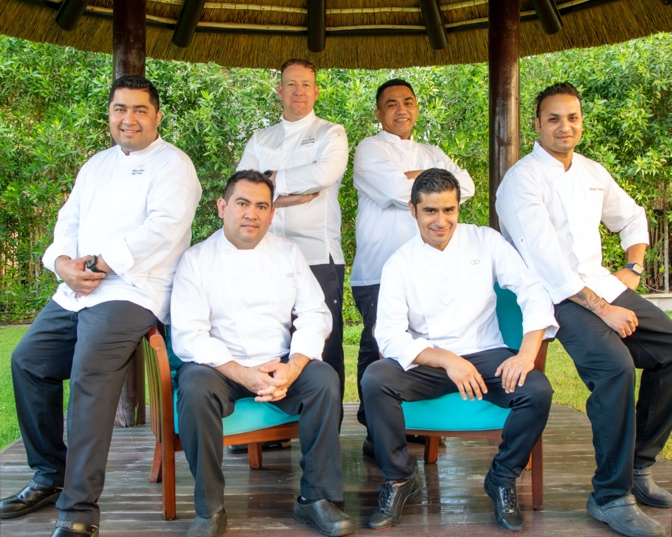 Sofitel Dubai The Palm, located on the East Crescent of Palm Jumeirah, has revealed a reinforced culinary team with several new appointments and internal development. This includes Chef de Cuisines for Moana, Laguna, Hong Loong and Porterhouse Steaks and Grills, along with the selection of an Executive Sous Chef and the internal promotion of Chef Akshay Batra from Pastry Chef to Executive Pastry Chef.
Chef Kevin Fleming, Executive Chef said, "Looking forward to a very busy and exciting 2022 I have handpicked the best candidates available to make an already strong culinary team even stronger. Each appointee will bring his own skills and abilities individually and collectively as a team we are ready to push the culinary offering in the hotel to the next level".
The first culinary talent joining the team as Executive Sous Chef is Diego Solis. He holds a Technical College Diploma in Professional Quality Control of Food and began his hospitality career 21 years ago in 2001. His culinary career kicked off when he joined Brick Hotel Brasserie in Mexico as a Sous Chef in 2009, later moving to Grosvenor House Dubai as a Sous Chef. He then moved to China as Chef de Cuisine for Hyatt Regency Dongguan and returned to UAE in 2017 as Chef de Cuisine for St. Regis Dubai. In his last role, he was the Executive Sous Chef at Hilton Habtoor Palace, where he assisted the Executive Chef to manage overall kitchen operations. "I am delighted to be a part of the Sofitel Dubai The Palm team, a brand I have always admired for excellence and luxury. It's going to be an interesting journey ahead and I am really looking forward to working with the F&B team and ensuring smooth operations in the culinary departments," added Chef Diego Solis, Executive Sous Chef.
Chef Akshay Batra is an award-winning Pastry Chef of the Year 2021 with more than 15 years of experience. At Sofitel Dubai The Palm, he will now lead and oversee the dessert and bakery division of all dining concepts, including Porterhouse Steaks & Grills, Manava, Moana, The World Eatery, Maui, Zoya by Maui, Olivier's and Laguna as the Executive Pastry Chef.
Jacob Neva Villarreal joins the property as Chef de Cuisine for Moana Seafood Restaurant and Laguna Lounge. He is a Technician in Gastronomy graduate from Universidad Tecnológica De Cancún in Mexico, with several years of expertise across cruises, restaurants and hotels. His hotel career took off at Hyatt Regency Mexico City, where he was responsible for Latin American cuisine. In 2015, he moved to Dubai and joined Hyatt Regency Dubai Creek Heights as Chef de Partie and moved on to work with several hotels including Marriott Al Jaddaf and The Oberoi Hotel Dubai before joining Sofitel Dubai The Palm. Commenting on his appointment, Chef Jacob said, "Cooking is not only my career, it is my passion. I find it exhilarating to bring people together through food, by creating unique and memorable dining experiences for guests. I look forward to my journey with Sofitel Dubai the Palm, collaborating with its dynamic team and refreshing the menu".
Chef Mustian Gadang is an award winning newly appointed Chef de Cuisine at Hong Loong Restaurant following its reopening last December. Chef Gadang brings a creative touch nurtured through assignments in Asia, US and the Middle East to his new position. Originally from Jakarta, Indonesia, Chef Gadang began working his way up the line since 2007, before honing his skills at Park Regis Kris Kin Hotel Dubai and going on to work for some of the big hospitality chains in the industry. Prior to joining Sofitel Dubai The Palm, Chef Gadang was Head Chef at Shanghai Restaurant, JW Marriott Marquis Doha City Centre. "I am very much excited about this opportunity and the new chapter in my life in Dubai. Working alongside the talented culinary team at Sofitel Dubai The Palm, I am eager to put my passion, authentic Asian flavors and signature ingredients into each dish at Sofitel," Chef Gadang said.
Adnan Nadeem has been newly appointed as Chef de Cuisine of Porterhouse Steaks & Grills at Sofitel. He is a Bachelor of Arts in English graduate of American University, Dubai, U.A.E and holds a Culinary Diploma in Culinary Art from The Emirates Academy of Hospitality. Adnan is an industry veteran, with a rich culinary career spanning over 19 years, including 15 years of international experience. He assumed various positions, beginning from Hawksmoor Bar and Grill in the UK, Hilton JBR, Madinat and Meydan Hotel (Jumeirah Group), InterContinental Hotel (IHG), Dörpshus Lohe in Germany, Royal Vancouver Yacht Club in Canada and Honeysuckle hotel in Australia. He was the pre-opening Sous Chef at Porterhouse in 2013 and has returned to join the team as Chef de Cuisine. "I am very thrilled to be joining the dynamic team at Sofitel Dubai The Palm," said Chef Adnan. I look forward to working with Sofitel Dubai The Palm's fine range of F&B services and I'm very excited to be part of the award-winning Porterhouse Steaks and Grills".
Visit the website.