Soneva Fushi Maldives is set to collaborate with German chef and entrepreneur Tim Raue to bring the exquisite flavours of Berlin's two Michelin-starred restaurant Tim Raue
Tim Raue will be captivating guests with his culinary prowess at the resort's renowned fine dining zipline restaurant, Flying Sauces, during an exclusive 15-week residency from October 12, 2023, to January 24, 2024.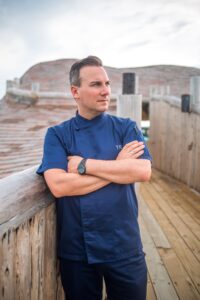 Back in 2010, Chef Tim Raue and his business partner Marie-Anne Wild established Restaurant Tim Raue in Berlin. The establishment has since earned two Michelin stars and an impressive five black toques from Gault&Millau. Moreover, it has secured its place among the top 50 restaurants globally, currently ranking at an impressive 40th.
At Flying Sauces, his menu will span Asian influences, German interpretations, and the use of locally sourced Maldivian ingredients. Situated 12 meters above the ground, the venue boasts an open treetop kitchen. Guests securely fasten into safety harnesses before gliding along a 200-meter zipline route to arrive at an elevated dining platform. Here, they are treated to breathtaking vistas of the island's verdant landscapes and the sparkling turquoise ocean.