Orfali Bros Bistro was awarded the region's best restaurant title at Middle East & North Africa's 50 Best Restaurants in the region
Held on January 30, the Middle East & North Africa's 50 Best Restaurants awards for 2023 were held at Conrad Abu Dhabi, Etihad Towers in partnership with the Department of Culture and Tourism – Abu Dhabi. The newly-unveiled list features winners from 14 different cities across the MENA region, that include Marrakech, Tunis, Riyadh, and Kuwait City.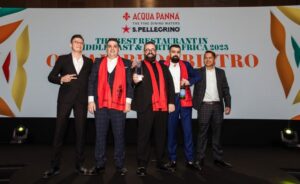 Orfali Bros Bistro, the unlicensed restaurant located at Wasl 51 and founded by three brothers Mohammad, Wassim and Omar Orfali, took home the title of the region's best restaurant. Its renowned menu pays homage to the brothers' Aleppian roots with culinary highlights such as Shish barak à la gyoza, OB croquettes, and fattoush. The list was followed by fine-dining Indian restaurant Trèsind Studio (No.2), Fusions by Tala in Manama (No.3), which also claimed the title of The Best Restaurant in Bahrain and the Highest Climber Award 2023, and Dubai's Ossiano (No.4) was awarded the Highest New Entry prize.
Here's the complete list of MENA's 50 Best Restaurants in 2023