Often described as 'the world's fastest butcher', meat master Cüneyt Asan, the owner of Günaydın Dubai at Souk Al Bahar, talks beef with The Pro Chef Middle East.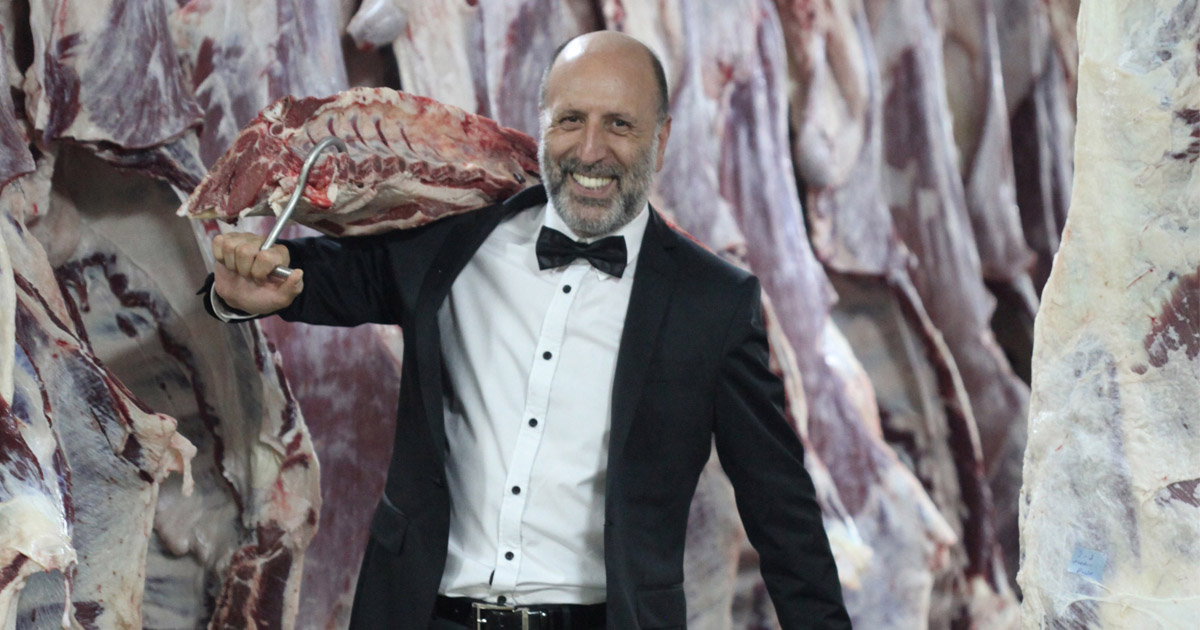 Having specialised in butchery for more than 50 years', chef Cüneyt Asan has earned titles including 'The Professor of Meat' and 'Fastest Butcher in the World'. Although based in Turkey full-time, the meat professional visits Dubai monthly to oversee operations at his restaurant, Günaydın Dubai.
From sourcing beef to serving, here's what chef Cüneyt shared with us – including details of his experience as mentor to the 'meat internet sensation', Salt Bae…
Looking at the beef market, which countries do you think have the best quality product?
Some of the countries producing the best quality beef include Argentina, where a majority of livestock are allowed to roam freely and feed on grass rather than corn, which results in better fat distribution throughout the meat. Japan has incredible Wagyu beef since this breed of cow has a genetic predisposition to produce meat that's highly marbled with fat, creating an extremely succulent, tender cut with a high percentage of healthy omega 3 fatty acids. There is also Australia and America; both are highly popular for their top-notch beef quality.
Where do you source your beef from?
At Günaydın, we order American and Australian beef, as well as Wagyu beef from Japan.
When looking at where cows are reared, what crucial aspects are you looking for a farm to have?
Abundant space is a great start. When cattle are confined and stressed, this is reflected in the taste and texture of the meat. When looking at where cows are reared, I look for a clean environment, from the cows' bedding, to the equipment used – ensuring that farmers eliminate illnesses to the best of their ability. Nutritious food and water, even all-natural smart supplements ensure that the cows are treated well. It is important to keep cows happy and healthy in order to deliver high-quality beef
Let's talk knives! To do your job, your knife is a key tool. Which type and brand do you favour most for butchery?
I have an exclusive, custom-made set of knives. I am a person who is in love with his job and I take this set of knives with me wherever I go. From time to time, I put on my apron and put on a show where I demonstrate cutting meat with these knives.
There are a few quality brands that stand out in the market. Indeed, we choose the type of knife according to the task at hand. There are separate knives for cutting the meat, chopping the meat, skimming the meat, or deboning the meat. That is why trying to use a single of type of knife for every task will only slow the process and even makes it impossible to complete the tasks at times. The types of knives we use include chef's knife, chopping knife, trimming knife, skimming knife and fillet knife.
What's your favourite breed of cattle to cook with and why?
Wagyu, which is any of the four Japanese breed of beef cattle. Wagyu cattle have a genetic predisposition to produce marbled meat from the high levels of fat, which yields a beef that contains a higher percentage of omega-3 and omega-6 fatty acids than typical beef. I prefer Wagyu Black cattle as they have higher fat content as compared to the three other Wagyu cattle.
Across all of your restaurants, which type and cut of beef do you find is most in demand from your guests?
At the steakhouses, the most preferred meats are tomahawk, T-bone, Dallas and rack of lamb. In our kebab restaurants, the most preferred kebabs are adana, urfa, alinazik and seasonally keme kebab and yenidünya kebab.
You've been titled 'the fastest butcher in the world'. How did you earn that title?
This was a titled given to me by other chefs in the industry, my peers and subordinates. It is due to my years of experience handling meat, no matter the cut, size or texture.
We hear it all started for you at ten years of age in a butcher shop! How did this come about?
After moving to Istanbul, I started working as an apprentice at the Bostancı Butchers' Market at the age of 10. By the time I reached 21, I had developed my skills and grew from an apprentice to a master of my craft. However, soon after I had to put my passion to a pause and join the military service.
After paying my dues to the country, I went back to the butcher shop I had previously worked at, which was then owned by the two brothers Nimet and İsmet Yalçın. They eventually offered me a partnership, to help keep the butchery's legacy alive. The butcher shop was called Günaydın ('good morning' in Turkish), and was first established as an American bar and a library, breaking new grounds as a first of its kind in Turkey. Within five years, Günaydın established a meat production farm in Malkara-Tekirdag in order to produce its own meat and supply raw meat to restaurants and factories in Istanbul.
By 1992, my partners and I were the meat suppliers to the majority of Istanbul's restaurants. Due to popular demand, we decided to launch our first restaurant in Çamlık, Küçükyalı. Following its success, the second branch in Bostancı, located on the Anatolian side of Istanbul, was launched in 1994 and the list kept growing with the addition of Kozyatağı, Etiler and Suadiye branches.
What does it take to become a meat master butcher like yourself?
Success doesn't happen by accident, it requires effort. I became a meat master for the sheer love of meat. It is true that you have to love what you do in order to work with immense dedication and excel at it. Over the years, I formed an indescribable bond with meat. I understood the inner workings of various meat cuts, how to handle it with care by hand, how to treat it, how to best season it – which is minimally, so the authentic taste of the meat isn't removed. To develop, I watched other chefs at work, and how they best improved their methods to prosper at my own craft.
What food trends are coming out of Turkey at the moment?
Trends at short lived. Turkey doesn't have food trends, but food legacies. It is evident that doners and kebabs are highly popular world over. There is also the desired Turkish dessert, katmer. The dessert hails from East of Turkey and has a history of over 5,000 years. Turkish coffee and Civan Er's mantı (Turkish ravioli) are also becoming prominent around the world.
You mentored Salt Bae – what was that like? Did you know he'd eventually become an online sensation?
As is the case with most teachers, watching their students learn, grow and excel is always a heartwarming feeling. It gives me great pride to watch the little boy who started out at Günaydın restaurant in Turkey work his way to start his own culinary enterprise and succeed at it. Becoming an online sensation can almost never be predicted for anyone, but he has always been theatrical and charismatic, so it is no surprise that he has won such a great fan-following in the digital realm.
For aspiring chefs of today, what's your word of advice?
Be ready to face the pressure, believe in yourself and work hard. If possible, get the best training out there. There are more learning tools available nowadays than there were when I started and professional training can really ease the journey. No job is too big or too small, expect to start as a sous chef and be a dish washer if you have to, as long as you keep learning and keep improving. Always be humble and always be nice no matter what your position may be.
Details: for more information visit Günaydın Dubai. If you enjoyed this article you may like this story on Virgilio Martinez.